R. JASHWANTH is a 6 year old boy studying in Class 1 at Narayana e-Techno School (School Class Topper), Maduravoyal, Chennai.
Jashwanth got Exectis Achievement Award . He started winning in various competition from a tender age of 3 years. His parents realized his IQ is above his age kids. He has very good memory power.
He has multiple talents, has super memory power, and is an extraordinary multiple tasking kid.
1. Jashwanth has a YouTube channel, started at the age of 4 Years ( 2 years back).
Channel Name: *Jashwanth Sakthimurali 4 Years Little*
(In this channel he is teaching Phonetic, Tamil, Hindi, GK, Subjects wise, etc.,)
Many parents gives feedback about his teaching in YouTube videos are useful for their kids…
2. India book of records recognized his talent.
3. India(n) Books of records Talent Hunt recognized his amazing memory and he achieved new Indian records.
4.He can Show and tell India name with capitals within 50 seconds.
5. Jashwanth Show and Tell all 48 Asian Country Flags names continuously within 42 seconds.
(Recently Little Learner conducted the world through flag competition.
He won first place for telling country flags name very fast – 20 out of 20 (randomly) * 42 seconds *… No one achieved this timing…. ( Other countries kids also participated in this competition)
6. He *continues* writing.. ( Non stop) without break-( All take time 30 minutes to 45 minutes)
*Multiplication table 1 to 10.
*Maths Numbers name 1 to 100 in cursing.
*Numbers 1 to 500
* 50 Body parts name in cursive
*Tamil all 247 letters
*Hindi all letters (481 letters) ( take 1 hr)
He won many shields, medals, Certificate and Prizes various competition (Won Few National level competition, participated international level))
1.Academically school class topper award 2019-2020(He won school side all competition)
2. Cursive Handwriting Competition (winner)
3. Mathematics competition ( winner)
4. Multiple Story telling competition(Story teller)(all winner)
5. Multiple Fancy dress competition (Super action) ( winner)
6. Drawing Competition (winner)
Currently he participated spell bee competition too.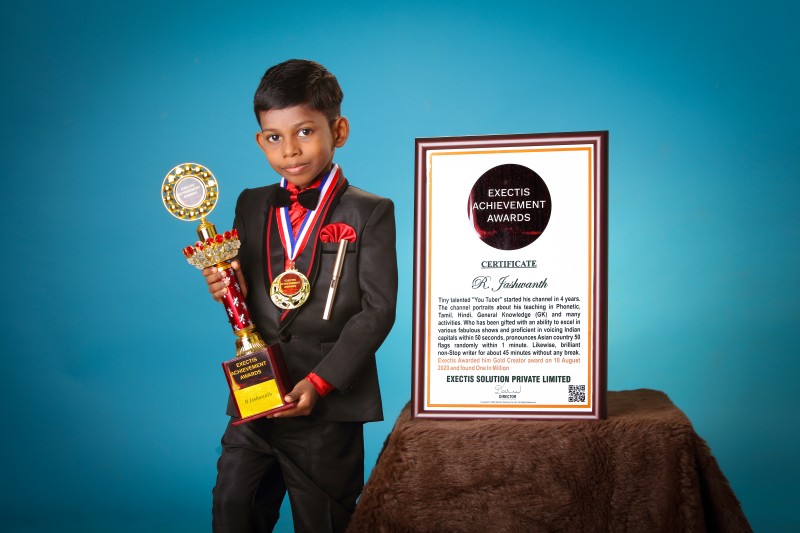 Achievement Awards for Tiny Talent R. Jashwanth