Greetings from Twinkling Star Kids,
'National Level Online Competition'
On the eve of "International Plastic Bag Free Day", We, Twinkling Star Kids feel honoured in announcing our online contest based on the Theme "Say no to Plastic Bags".
One of the best platform for blooming young buds to discover their interest and showcase their talent.
Rules and Regulation:
1. Age 3 – 14 years
2. Activities should be done specifically by the kids, 2 to 3 min video of Drawing, Fancy Dress, Art & Craft, Speech, Essay writing
THEME: 'SAY NO TO PLASTIC BAGS'
Drawing : Plastics choking Earth / Plastics on Ocean.
Fancy Dress : Say no to Plastic Bags
Art & Craft : Best out of Waste
Speech : Impact of Plastic Pollution
Essay Writing : Plastic Free India
3. Last date to submit entries: 20th July 2020
4. Last date for registration: 17.07.2020.
5. Results will be announced on 30th July 2020
6. All participants will get Participation E-certificate
7. Winners will be awarded Cash Prize/Medal and 'Winner E-certificate'.
8. Registration Fee: Rs.150 for each contest. Gpay/Paytm
9. For Registration, WhatsApp and mail twinklingstarkids@yahoo.com Contact no: 8610718163.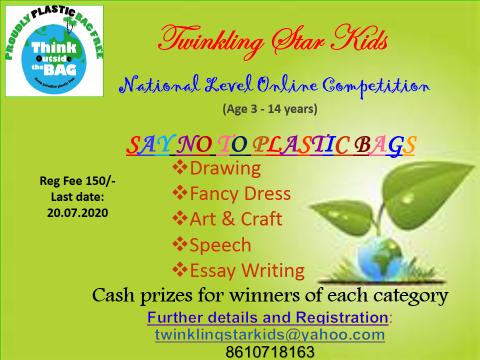 Twinkling Star Kids National Level Online Competition for July 2020