Greetings from Dolphin Academy!
We are Glad to announce the National Level Drawing & Painting Competition for Kids PRE KG to 8th grade.
THEME

PRE KG – UKG === Object Print Painting (Painting using Cut Vegetables, Leaves, etc…..)
I – III === NO to Plastics
IV – VI === Save Earth/ Water
VII – VIII === Swachh Bharat
REGISTRATION DETAILS

Entry fees – Rs. 80
Last date from Registration – 16th July 2020
Results – 19th July 2020

FURTHER DETAILS

For Registration, please Whatsapp @ 9176249780 by providing Participant Name, Class & Age.
Payments through GPAY/ Paytm @ 9176249780.
Drawing/ Painting can be in A4 /A3 sheet paper and to be sent through Whatsapp.
Drawing can be done using water, poster colours, oil pastels or anything of their choice.
Send your entries along with the following:
Name along with intials, Class, Age, School Name, Location, Contact #.
Also attach the payment receipt along with the entries.
All participants will get Participation E- certificate.
Winners will be selected from each category & Winner E-Certificate & Prizes will be provided.
Prizes can be Cash/ Medal/ Gift (depends upon the COVID situation)
Winners will also get a chance to be enrolled as a free Registration in our Academy's next Online Drawing Competition.
For any queries, please Whatsapp @ 9176249780.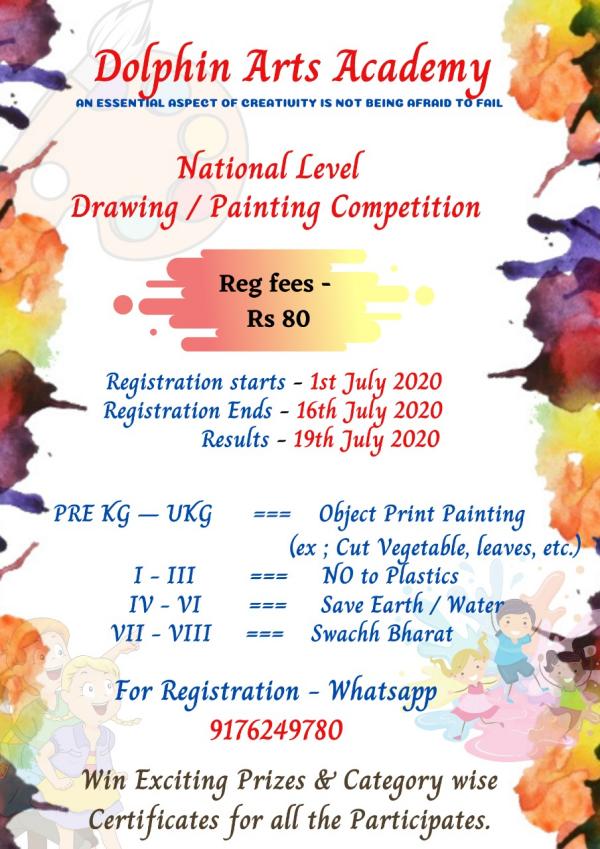 National Level Drawing & Painting Competition for PRE-KG to 8th Std by Dolphin Academy