Some children have an uncanny knack of pulling their listeners into their tales. They tell stories in a way that brings characters to life. Is your child gifted with this ability? Then give them a global stage to shine! Sign up for the Online Storytelling Challenge #3!
Pick any thriller or mystery story and narrate it to us Live. It can be a self-composition too. Scoring will be done on Effectiveness, Body language and Voice modulation. Reading verbatim from a paper or screen is allowed.
Children from all over the world are actively taking part in various Melio challenges. From the USA to Europe, Thailand to the Middle East, registrations are pouring in. So let other parents know that the competition is wide open and exciting!
Register now @ https://bit.ly/2AmPE9C or call-whatsapp us at 9902081632
Venue Address: Online Competition via Zoom.
Age Group: Under 16 (12-15 years), Under 12 (10-11 years), Under 10 (8-9 years) and Under 8 (5-7 years)
Event Date: 10-12 July 2020.
Timings: Qualifier round is 3-9 pm on Friday, 10 July. Final is 11 am-1 pm on Sunday, 12 July
Event Fee: 299
Creative/Art Work for the event (high resolution image): Attached
Link to Book Tickets/Registration: https://bit.ly/2AmPE9C
Contact Person: Gunjan Shah
Contact Number: 9902081632
Email Id: support@melio.co.in
Website: www.melio.co.in
Facebook Page: https://www.facebook.com/Melio-126278072105875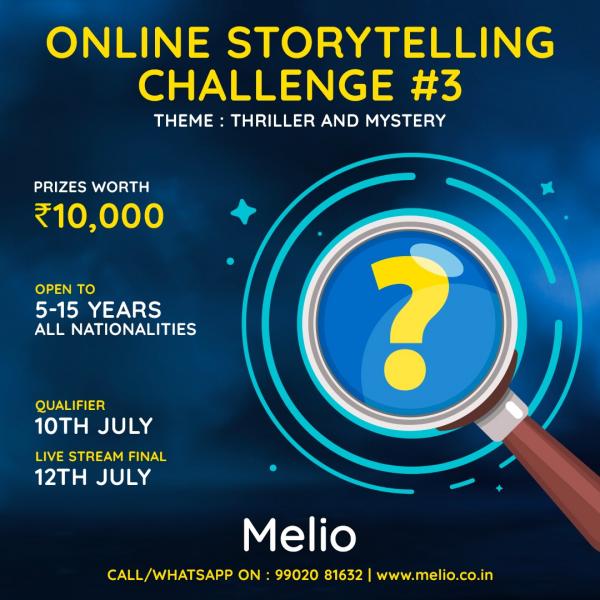 Melio Online Storytelling Challenge #3