FairGaze Skills Pvt Ltd Online Contest for Students.
FairGaze Skills Pvt Ltd organizes this big online contest every year at the time of Independence Day where students get a chance to express how they perceive and see their motherland. The contest ranges PAN India and is divided into three categories of tasks as per the group of students.
Students from LKG till class 5th can draw and express their emotions through colors.
6th to 8th students can weave their feelings in the form of poetry.
9th till 12th class students can eloquently write an article on some current buzzing topics.
Users can participate by visiting on https://indiaasisee.fairgaze.com/
Winning amount is upto 14000 INR with certificates and trophies
Entries closing on 15th August 2020.
You can contact on below shared contact details.
Contact: +91 8287959684
Email: mkt@fairgaze.com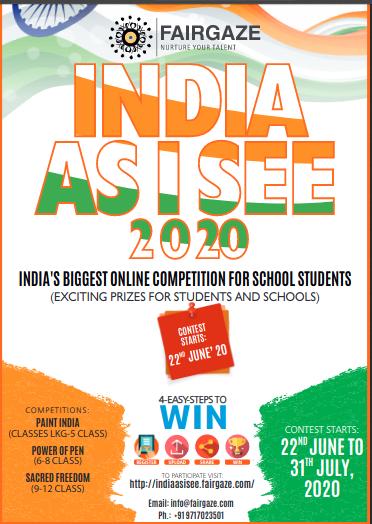 FairGaze Skills Pvt Ltd Online Contest for Students