Twinkling Star Kids
Presents
Father's Day Contest
"A SON'S FIRST HERO, A DAUGHTER'S FIRST LOVER"
This is not a competition. It's a fun contest, show us how funny, loving & cool your dad is!
Note:
1. No age limit, all the dad lovers can participate.
2. Activities should be done by the Dad and kids, 2 to 3 min video of Dance, Singing, Face painting, Speech, and Atrocity.
Dance – any style.
Singing – any style.
Face painting – the child has to do in his/her father's face.
Speech – My Dad is a 'SUPERHERO'.
Atrocity – it should be fun with decent.
3. Last date for submission 30th June 2020
4. Payment can be done through Gpay, Paytm, phonepe
5. All participant get the e-certificate with the Title 'Best Dad & Son' or 'Best Dad & Daughter' along with your photo printed on it.
6. Send us a high-resolution photo picture with good quality @ twinklingstarkids@yahoo.com
7. One Best Performer will be selected and awarded with a Trophy and Certificate
8. Registration Fee: Rs.150 per Event.
9. Last date for registration: 27.06.2020.
10. For registration (through mail or WhatsApp)
Email:twinklingstarkids@yahoo.com
Contact no: 8610718163.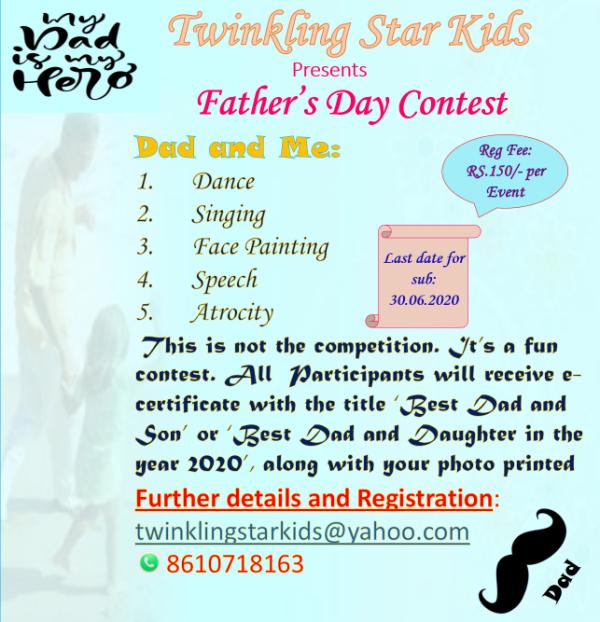 Twinkling Star Kids Presents Father's Day Contest