Pencil Park School of Arts organizes Online Drawing Competition June/July 2020.

Categories & Topics:
Pre KG – LKG – UKG : Fruits / Flowers
1st to 3rd Std : My house with Garden
4th to 6th Std : Village scene
7th to 9th Std : Salute to Covid – 19 warriors
10th to 12 th Std : Life after Covid lockdown
Entry fee is Rs.100/- per Art Work.
The Art Work should be done in A4 size and must be sent in JPEG image form ( Max image size 1 MB ).
Each student can send More than one Art Work.
Art Work must be the student's original creative work.
Participants can use any medium of Colours.
All the place winners will get TROPHY and winner CERTIFICATE through courier once the lockdown gets over.
All the participants will be provided with a participation certificate (E-format) in their respective email-id.
Complete Details : http://pencilparkschoolofarts.com/drawing-competition/online-drawing-competition/
https://docs.google.com/forms/d/e/1FAIpQLSe8OiZ0R_6l8-kBt9MKZ0-xOBAQs_0EJ1ZYzNcAgbx-0XCF4Q/viewform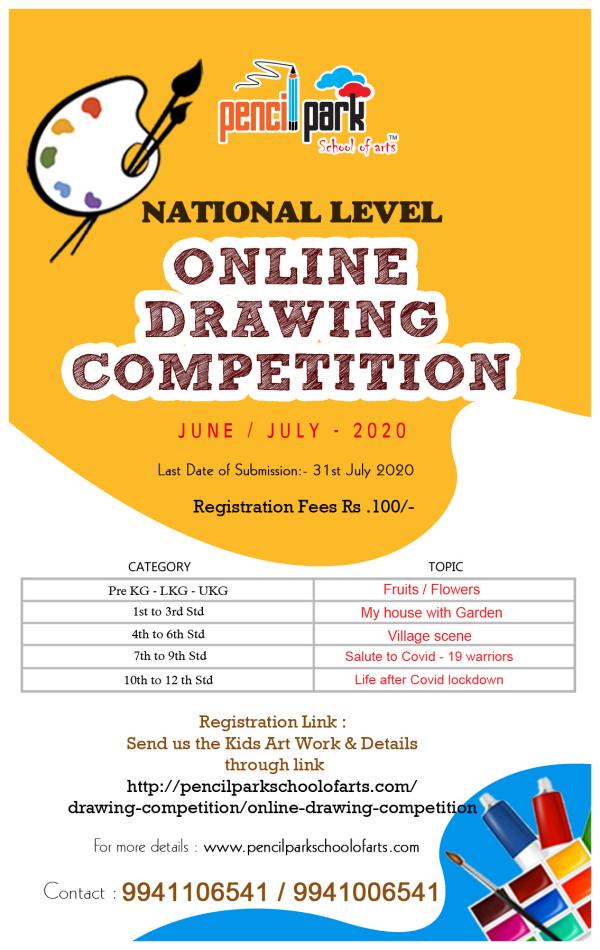 Pencil Park School of Arts Online Drawing Competition June/July 2020