Online Football Heading and Juggling Contest 2020.
R&H sports club is conducting Online football heading and juggling contest 2020 for Age category Group A – 11-15 years, Group B – 16-20 years.
Details:
Registration date from 15th June to 05th July
On July 7th 2020 football heading contest and
on 8th July 2020 football juggling contest.
The participants has to record their video of heading or juggling of 1min challenge.
Rules & Regulation below:
1.Show Date and timer on screen while recording video.
2.No edited video are allowed.
3.Send recorded video on allotted time.
4.Use football only other balls are not allowed.
5.Highest Heading count will be consider as a Winner.
6.While heading the participant has to count loudly.
7.Management decision will be final.
8.Football heading & juggling contest should not exceed 1min ( highest count within 1min will be consider as winner).
any query whatsapp 860 801 5555.
Reg fee: Rs.99/-
E-certificate will be emailed to the Winners and participants.
Send the video to our mail id: rnhsportsclub@gmail.com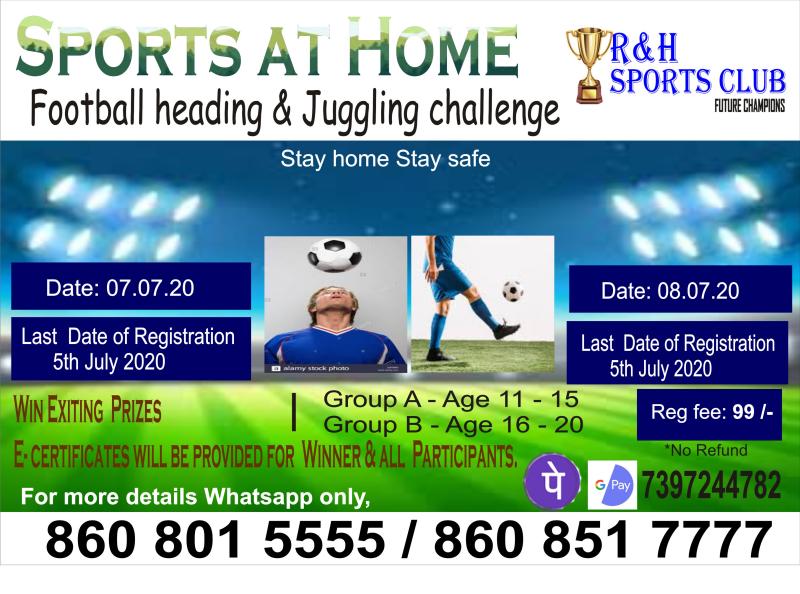 Online Football Heading and Juggling Contest 2020