Greetings from Dolphin Academy! Here comes the online Drawing & Painting Competition for Kids PRE KG to 8th grade.
THEME
PRE KG – UKG === Cartoon character
I – III === Scenery
IV – VI === Monuments
VII – VIII === Political Leader
REGISTRATION DETAILS
Entry fees – Rs. 50
Last date from Registration – 8th June 2020
Results – 10th June 2020
FURTHER DETAILS
⦁ For Registration, please Whatsapp @ 9176249780.
⦁ Payments through GPAY @ 9176249780
⦁ Drawing/ Painting can be in A4 sheet paper and to be sent through Whatsapp.
⦁ Send your entries along with the following:
a. Name along with intials, Class, Age, School Name, Location, Contact #.
b. Also attach the payment receipt along with the entries.
⦁ Last date to send your entries is 8th June 2020
⦁ All participants will get Participatio E- certificate.
⦁ Two winners will be selected from each category & Winner E-Certificate will be provided.
⦁ For any queries, please Whatsapp @ 9176249780.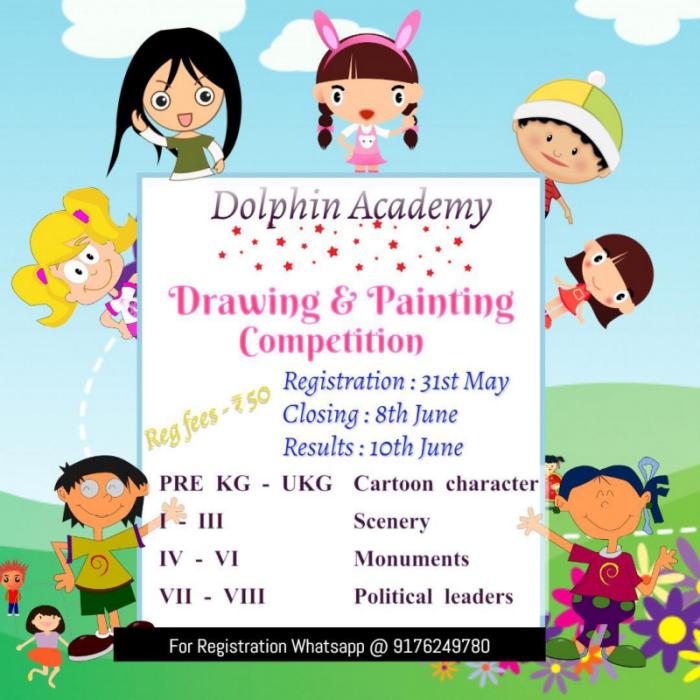 Online Drawing & Painting Competition for Kids Pre KG to 8th Grade