Hello everyone,
*Online Competition for Young Talents*
This Is The Best Platform To Showcase Your Talents
I Think Everyone Are Bored At Home Now It's Time To Prove Your Talents From Your Home….
This Competition Is Proudly Presented By *Xtremers Dance Crew*
Event organizer
*DINESH DANCE CREW*
*EEGAI NANDRA TRUST*
Age Category
– Below 6 Yrs
– From 7 to 10 Yrs
– From 11 to 16 Yrs
– Above 17 yrs
*Register with the following details.
NAME/CLASS/EMAIL ID/EVENT NAME/and MOBILE NUMBER to the whatsapp number*
*Entry fees* Drawing=125rs (Contact through email for payment details)
GPAY NUMBER: 9840960188
RULES AND REGULATIONS
*Take a screenshot of the payment and send to us through whatsapp number*
#Each participants should send their performance (1-2 mins video)and drawing image through whatsapp
*Before 6 year only for colouring.
*Above 6 year category darwing any topics*
*Drawing should be in A3 or A4 size paper*
*Caryons/Colour pencil/oil pastels can be use*
*No craft material/Decoration material to be used.if anything found to be used,the contestant will be disqualified*
*Music*
*Instruments and vocal*
Carnatic or Western will be perform.
Last Date to register :26/6/2020
Result Announced On 29/6/2020
*Judges Decision Will Be The Final Decision*
All Participants Will Be Receiving E-Certificate As PDF Document will be soon
There Will Be 1st,2nd,3rd Prizes
Special Awards Will Be There
Kindly Collect Your Certificate,Trophy After This Quarantine
*Entry fees Amount will be Donated to the people who are in need of food due to COVID-19 CRISIS*
Thank you
All The Best Participants
Forwarding To See Your Talents
Let's Make The Use Of This Quarantine Days
Hope Everyone Gonna Do Awesome….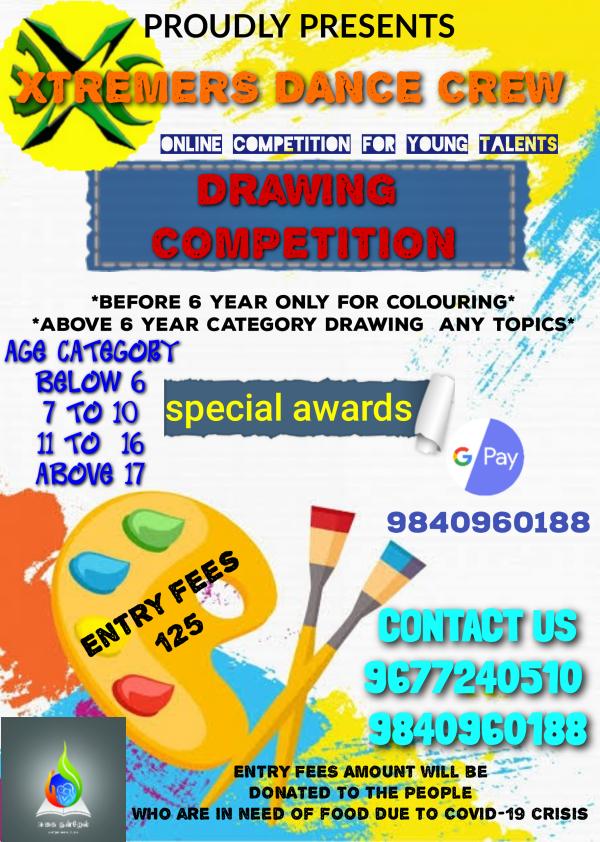 Online Competition for Young Talents By Xtremers Dance Crew