Indian Space Research Organisation ISRO is organising online ISRO Cyberspace Competitions–2020 (ICC–2020) For School Students.
ICC–2020 would avoid the physical travel of the students to different places and facilitates their participation online keeping them safe within their home during these testing times.
The competitions planned are:
1.Drawing competition for Class 1 to 3
2.Model making competition for Class 4 to 8
3.Essay competition for class 9 to 10 (Either Hindi or English)
4.Essay competition / Space-Quiz contest for class 11 to 12 (Either Hindi or English
For registration online on or before June 24, 2020., please visit: https://icc2020.isro.gov.in/icc/register.jsp
1.The competition is open to the school students studying in India.
2.The participation in ICC-2020 is without any fee.
3.All competitions are individual events.
4.Participation in these competitions can be done from home and participants need not travel anywhere.
5.The affiliation of the students for a particular class category shall be based on their enrolment during the academic year 2020-21.
6.The Identity Card issued by the Institution during the Academic Year 2019-20 shall be taken as reference.
The name of the top 500 students will be announced on ISRO website and the Merit Certificates will be provided by e-mail / post. All other participants will receive Participation Certificate through e-mail.
Website: https://www.isro.gov.in/icc-2020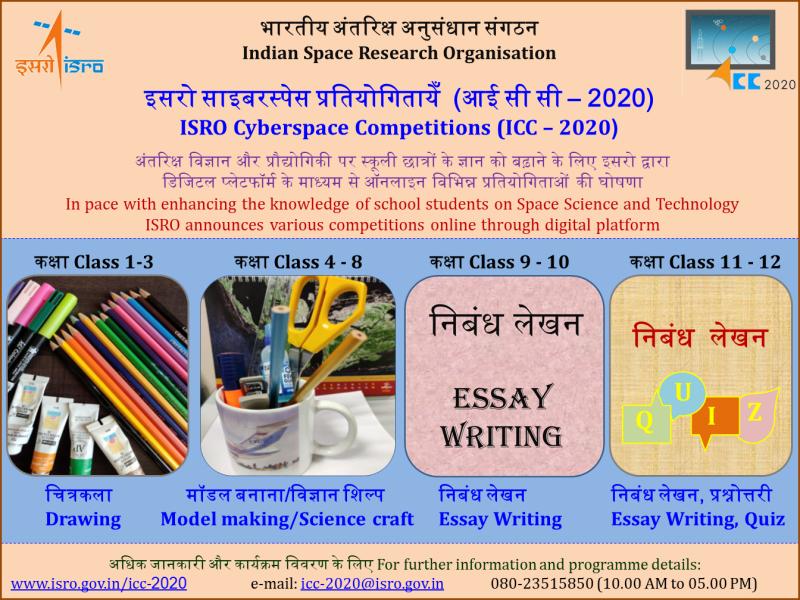 ISRO Cyberspace Competitions 2020 For School Students Online