Manikart agencies supplier of India's no.1 products proudly presents drawing contest on topic "Budding immunity developers"
The current scenario on which we have to protect ourself from the big pandemic disease. Hence, this contest focused on to initiate the awareness of immunity among the kids by their enthusiastic drawing activity.
Category 1- KG's : Fruits Colouring ( Pictures provided by us)
Category 2- 1st to 3rd Std: Healthy foods and their Importance
Category 3- 4th to 6th Std: Effects of Low Immunity
Category 4- 7th to 9th Std: Natural ways to boost our immunity
Rules: Registration Fee Rs. 120
Rules:
Drawings should be in A3 or A4 size paper and can use any medium for coloring.
Participants can register by sending Name, Category, Mail-id, Address, Payment screenshot by whatsapp.
Each participants should send their performance (1-2 mins video) and drawing image through whatsapp.
All the participants will get medal by post/courier and participating E- certificate through Email.
In each category, Top 3 winners will receive trophy and certificate through courier.
Each Winner parent will get complimentary gift of 3M products worth Rs.400 for their valuable guideship.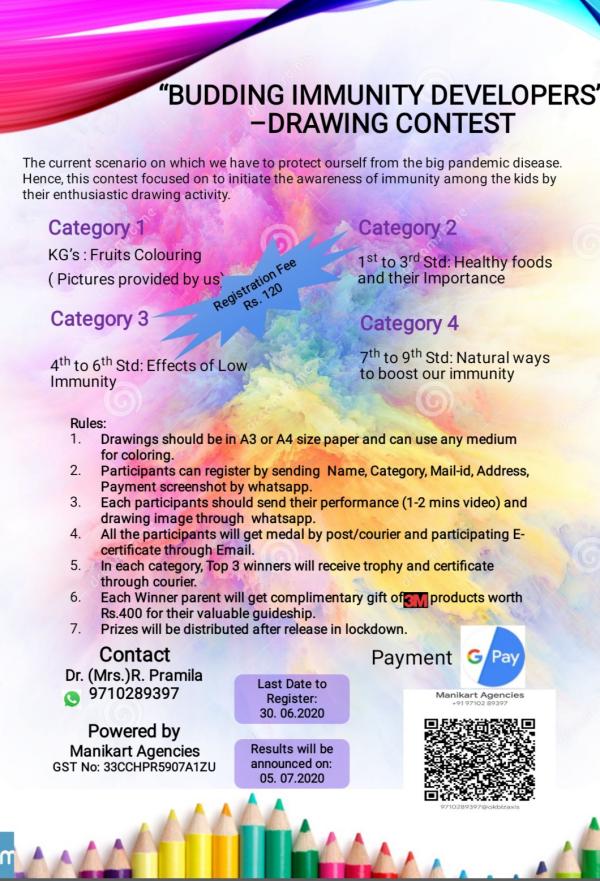 Prizes will be distributed after release in lockdown.
Our Judge panels are well knowledge in science background and will be named on results date.
Dr. (Mrs.)R. Pramila 9710289397(only Whatsapp)
Last Date to Register: 30. 06.2020
Results will be announced on: 05. 07.2020