VIBHACONTEST – 2020-21 ( INTERNATIONAL SPECIAL DAY CONTEST )
MONTHLY ON-LINE COMPETITION COMPETITION – 01 MONTH OF. MAY
THEME : (TOPIC) SPECIAL DAY
LABOUR'S DAY, INTERNATIONAL YOGA DAY, WORLD POPULATION DAY, INTERNATIONAL YOUTH DAY, INTERNATIONAL LITERACY DAY, UNITED NATION DAY, WORLD TSUNAMI AWARNESS DAY, FARMERS DAY – (KISAN DIWAS) IN INDIA,WORLD SMILE DAY, INTERNATIONAL MOTHER LANGUAGE DAY, INTERNATIONAL WOMEN'S DAY, WORLD HEALTH DAY,
With the new day comes new strength and new thoughts and celebration of special days. Childrens enjoy the special days and have memories about the day. Make them open up their minds and allow it expose in their art, writing etc.,
CATEGORY : TINY TOTS SUB-JUNIOR JUNIOR SUB-SENIOR SENIOR SUPER. SR
GRADE : NURSERY,KG, I.II.III, IV.V.VI, VII.VIII.IX, X.XI.XII UG, PG
EVENT CATEGORY :
COLORING (OR) DRAWING / ESSAY WRITING / HAND WRITING / FANCY DRESS / STORY TELLING / STORY WRITING / ORATORY / RHYMES / PERSONAL TALENT / / SLOKA TELLING / SINGING / THIRUKURAL. THEME :(TOPIC) SPECIAL DAY
– The competition is conducted all over the World with different Theme (12 topics) every month
– The competition consists of ONLY ONE level .
– Competition is on-line
– Individual to contact thro' mail or whatsapp, make payment and send the competition materials (Drawing sheet, Photos, Handwriting, Essay writing, Video etc.) thro' whatsapp or mail. Theme of the event is the respective festival. Video timings should be between 1-3 mins
– Donation is Rs.150 per event
– An application donation Rs.100 per applicant to be made
– A student can participate in any number of events
– All participants will be provided Participation Certificate for each event*
– Merit certificate & medal will be given to the Winners*
– If a individual participates in 12 events and win 6 events, a cup will be given every month. If a individual wins 12 cups in a year a Big Trophy will be given free. Likewise if a participant wins in a year the respective cup will be given*.
– The Decision of the judges will be final and binding
Start Date : 24/05/2020
End Date : 24/06/2020
Last date for Registration 12th May 2020
Last date for Submission 22th June 2020
(Drawing, Handwriting, Photos Video etc.)
Contact : 99400 98980 / 99622 72688
E-mail : vibhafestivalofindia@gmail.com
E-mail : thevibhagroup@gmail.com
WhatsApp : 9962239888 / 9962287888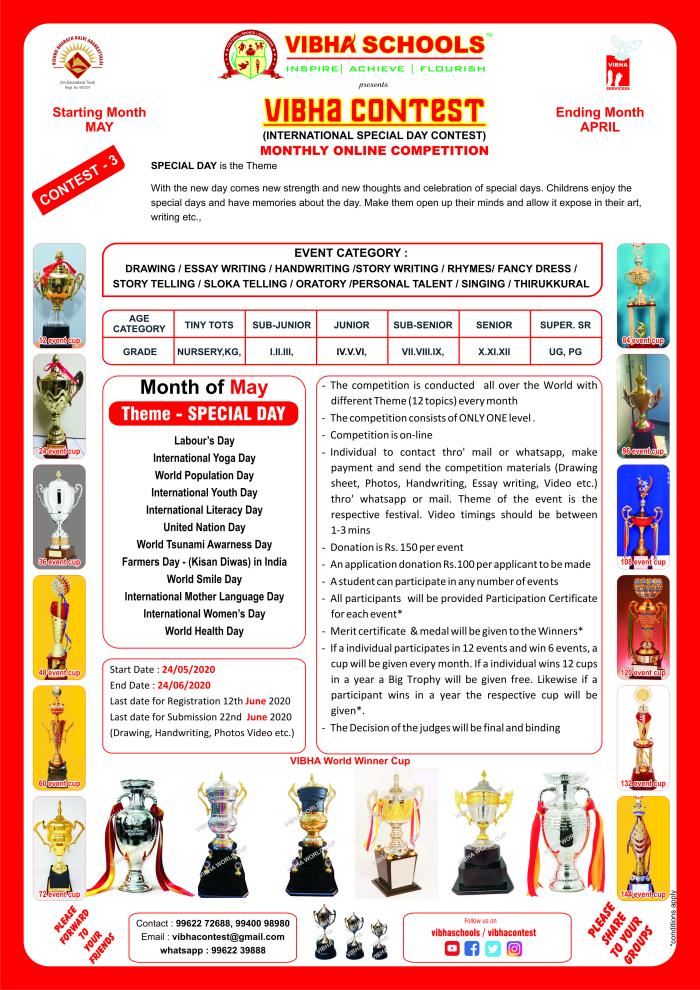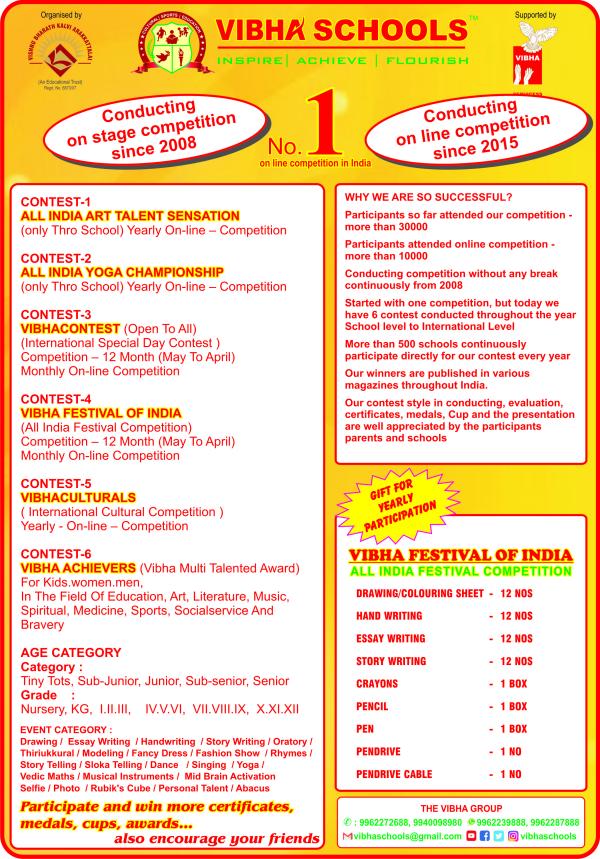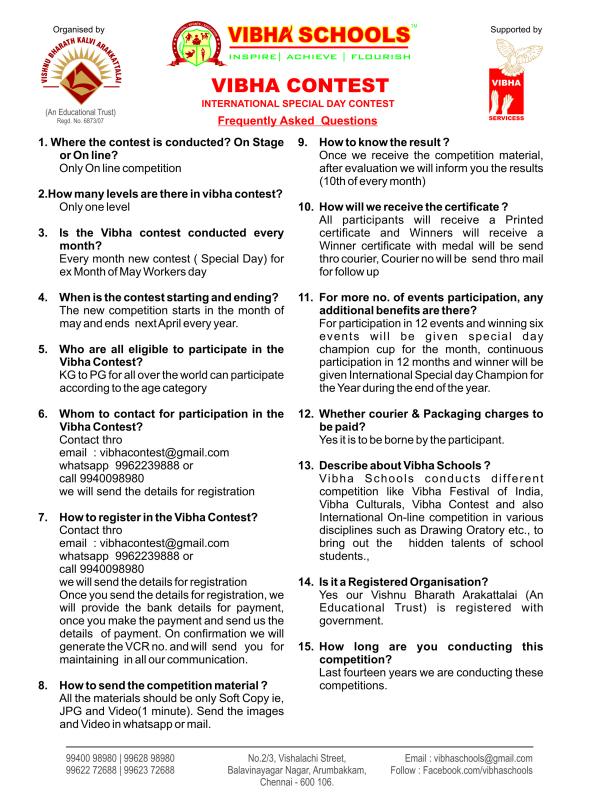 VIBHACONTEST -2020-21 INTERNATIONAL SPECIAL DAY CONTEST