HELLO EVERYONE !!!
Hi,This is"VIBHASCHOOLS"Happy to invite you to,the"VIBHA ACHIEVERS"
Vishnu Bharath Kalvi Arakkattalai(An Educational Trust),for the past 19 years has been involved in numerous kinds of activities and services for the underprivileged children in and around Tamil Nadu. One among them is the Vibha Culturals conducted through the year to promote and enhance the health of our future generations. Also the trust conducts various competitions to bring out the hidden talent of children through Drawing, Hand writing, Essay writing, Thirukkural, Singing, Dance, Musical Instruments, Yoga, Abacus, Vedic Maths, Mid Brain competitions.
The Present activity is for Honouring Achievers in various field through Vibha Achievers (International Multi Talented Award).
VIBHA SCHOOLS THE ON-LINE INTERNATIONAL MULTI TALENTED AWARD LEGEND.
VIBHA ACHIEVERS (INTERNATIONAL MULTI TALENTED AWARD)
FOR KIDS.WOMEN.MEN,CENTRES,INSTITUTION&ORGANISATION,
YEARLY – ON-LINE – AWARD
IN THE FIELD OF ( EDUCATION,ART,LITERATURE,MUSIC,
SPIRITUAL,MEDICINE,SPORTS,SOCIAL SERVICE,AND,BRAVERY,
Participation can be from All Age Group
– Participants can be from all over the WORLD
– Its an online Award
– There is no Age limit, only respective field of expertise will be considered.
– Individual to contact thro' mail or whatsapp, make payment and send the details of their expertise in the relevant field to us.
– Registration Donation is Rs. 600* for individuals and
for Centre / Organisation / Institution Rs.1200/-*
– Participate can be in any number of field of expertise
– Six Nominations will be done for each field
– Nominations will be informed thro mail or whatsapp and they have to Pay the Donation which will be informed later
– Only One Winner will be selected from the nominations from each field
– Winner will be given the following through courier
A3 size Framed Certificate with their photo
Winner sash ribbon
One Shawl, One Trophy & Medal
– The Decision of the judges will be final and binding
Eligibility*
For Students ( School/College)
Copies of State, National & International certificates of expertise. Letter from school principal is an added advantage. School ID
Other than Students
Personal write up, Details about field of expertise, Appreciation note from three known persons of the participant, ID
Note : Participants of our Vibha Competitions for the past three years are eligible with minimum documentation
Start Date : 24/05/2020 End Date : 24/08/2020
Last date for Registration 28th JULY 2020
Award evaluation 10/08/2020-30/08/2020
Contact : 99400 98980 / 99622 72688
E-mail : vibhaachievers@gmail.com
E-mail : thevibhagroup@gmail.com
WhatsApp : 9962239888 / 9962287888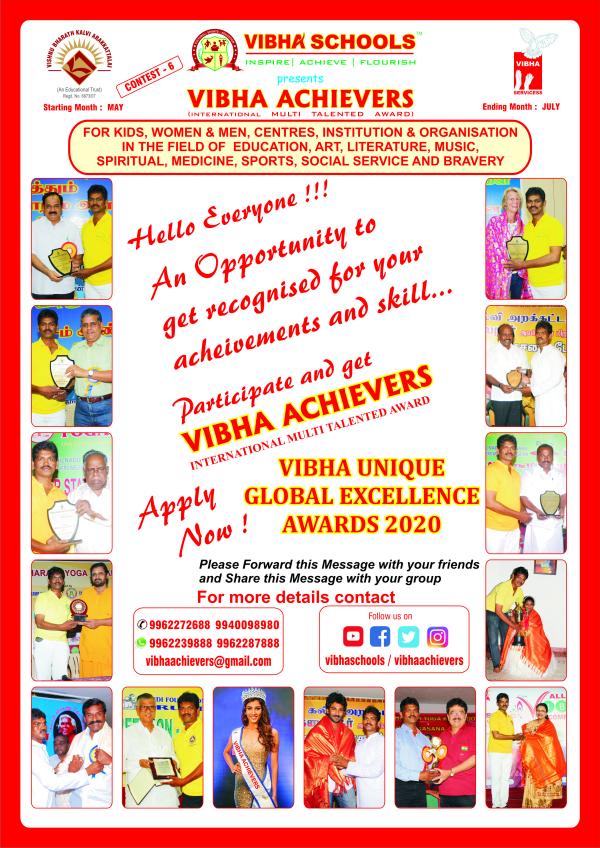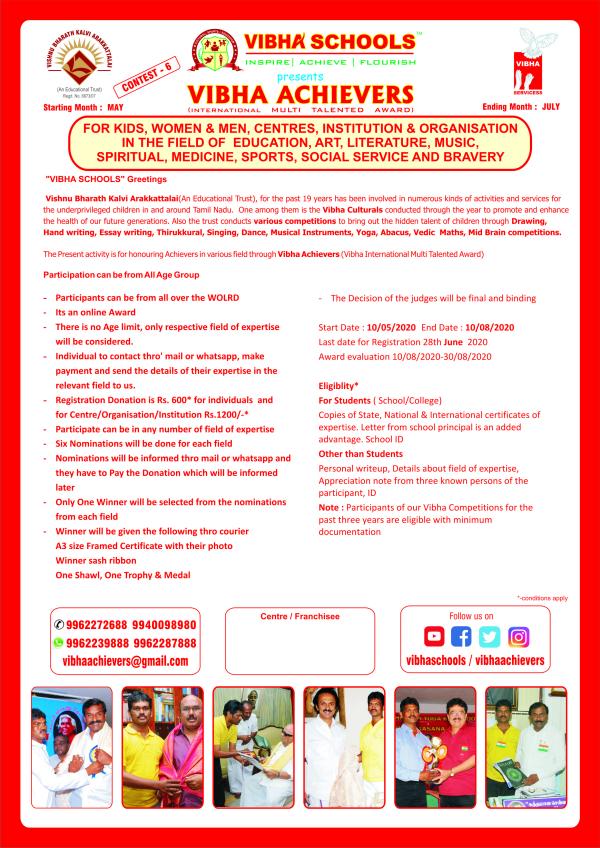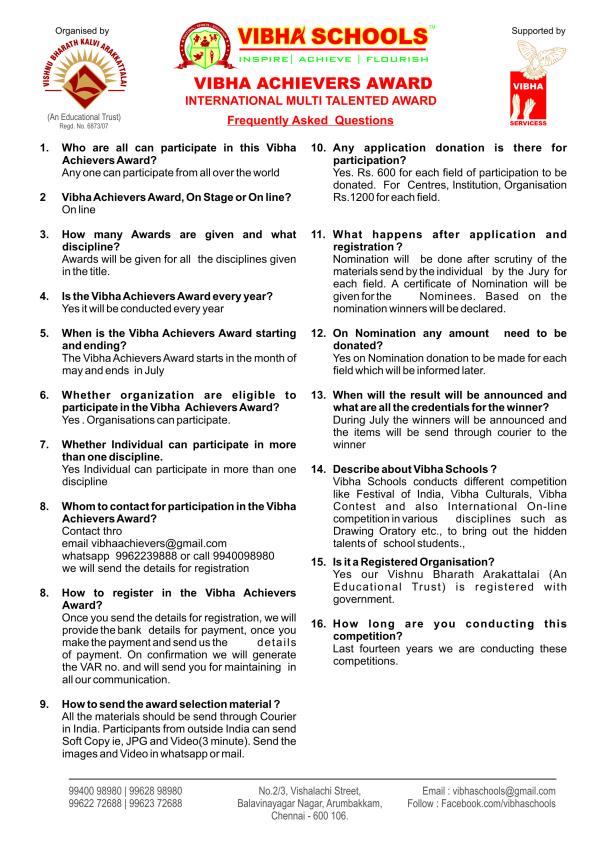 VIBHA Achievers-2020 Yearly Online, International Multi Talented Award