SMART SUPER STARS presents ENORMOUS KID AWARD ONLINE COMPETITION 2020.
Groups :
Group A: Kg's
Group B: 1-3
Group C: 4-6
Group D-7-12
Note:
1. Events or activities should be done by the kids, 2 to 3 min video of child Dance, Singing(song, rhymes, slogam ), fancy dress, drawing, personal talent(art and craft, storytelling, music,thirukural telling, face art, sports, ect..) any.. should be sent through WhatsApp to 9443667398
2.Last date for submission 30th MAY 2020
3.Payment can be done through bank account (net banking). Or Gpay
4.Judges decision is final.
5.In each group 8 winners(each category 1 will select – total 8 category ) will be awarded with winner certificate and Trophy.
6.In each group 8 will get best effort award with certificate and medal.
7.Participate min 6 events and win more than 5 events will awarded (EKA) with trophy (with print kid name ), winner certificates.
8. Continuously 3 competition winners award as star of SSS(SMART SUPER STARS ).
9.All participants get certificates and medal.
10.For all participants MOM/DAD are eligible for Drawing/Dudsmash/ speech contest and win "Special Mom/Dad Award" with memento. Each category 2 winner will be selected. free free free. For Dad or Mom
11.Reg Fee: RS.250 per event.
12.Result will be announced 7th Jun 2020
For more details contact: 9443667398.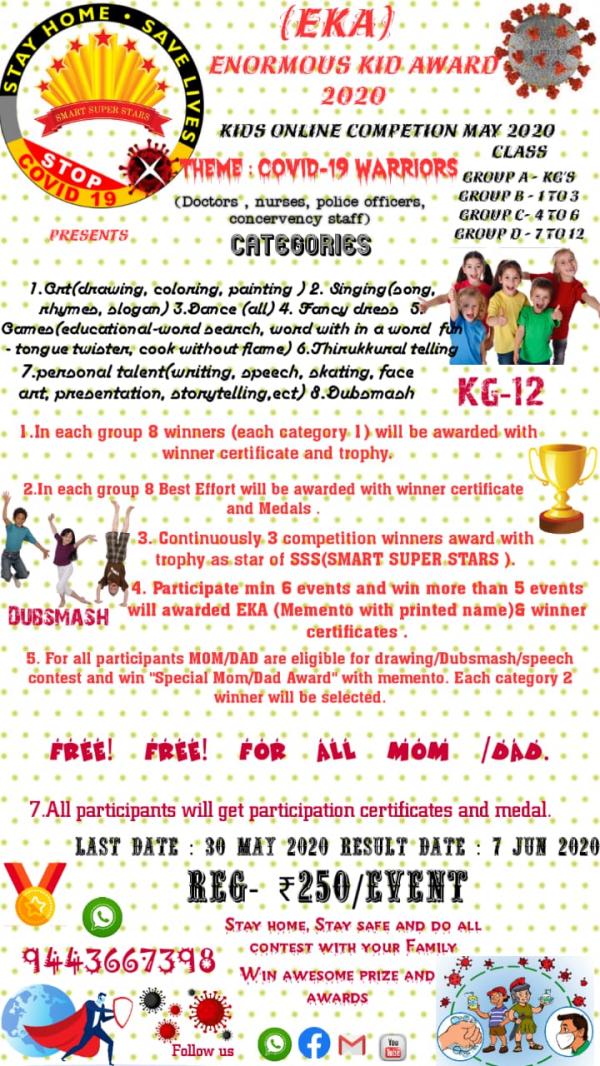 SMART SUPER STARS presents ENORMOUS KID AWARD ONLINE COMPETITION 2020