Remarkable Opportunity to Change the World
Innovators do not wait for the world to change! They seize opportunities to change the world one step at a time.
BeSingular Social proudly launches a unique opportunity to help young and promising students showcase their extraordinary talents and skills to the world. With the intent of allowing budding change makers to showcase their unique skills and talents to the world, we are proud to launch the "BeSingular Social Change makers Scholarship".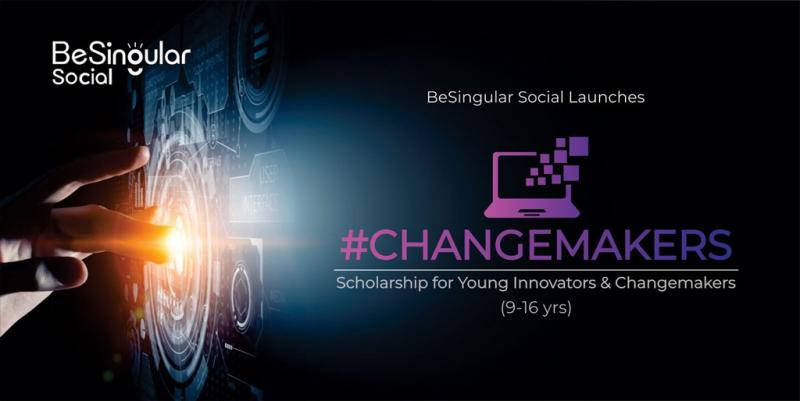 Who we are: BeSingular Social is a Non-Profit entity that has been launched by BeSingular in collaboration with The Banyan, a leading Child Day Care Centre Chain. A Best Group promoted entity, BeSingular was founded as a platform with a sole purpose to prepare the next generation for a tomorrow that is changing both rapidly and disruptively. Our innovative and well-researched curriculum imparts skill sets based on Exponential Technologies, which will benefit them in every aspect of their lives. Our unique approach enables children to experience these technologies and solve the world's imminent problems. We, together with tomorrow's change makers intend to open the world of infinite and abundant possibilities.
About the Scholarship: This "BeSingular Social Changemakers Scholarship" is open for young Indian residents in the age group of 9-16 years who have a passion for solving the world's biggest problems to make our planet a better place.
Project Areas: We invite projects from students which can help solve the current impending problems of the world in the area of:
Accessible and Affordable healthcare
Affordable and Clean Energy
Clean Water and Sanitation
Quality and Relevant Education
Industry Innovation
Smart City
Healthy and Quality Food
Benefits:
50% Scholarship on BeSingular Courses for the top three participants
International Certification from Beas Technology GmbH, Germany

Project Evaluation by Experts

Access to BeSingular Exponential Leadership Club

Chance to become a BeSingular Brand Ambassador

Be-Market-Ready Mentorship
Be a Changemaker. Click Here to apply now!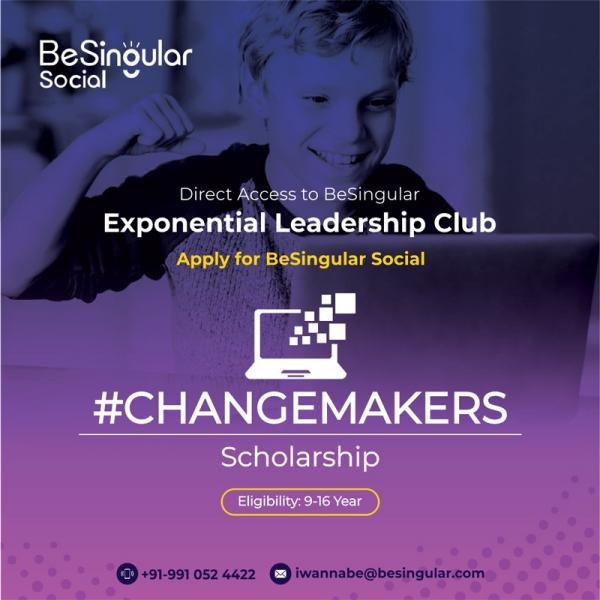 BeSingular Social Changemakers Scholarship