ALL INDIA COVID 19 ONLINE CONTEST 2020 is organized by K'LOG FOUNDATION, Mandaveli, Chennai.
There are Two categories for the competition:
I) DRAWING COMPETITION
COLORING – THEME (CORONA MESSAGE CARTOON) – LKG & UKG
THEME (COVID- 19 SAFETY) – 1st STD TO 3rd STD
THEME (WHAT U LEARN FROM CORONA) – 4TH STD TO 6TH STD
THEME (CORONA CHANGES AT HOME) – 7TH STD TO 9TH STD
THEME (AFTER CORONA CHANGES IN THE WORLD) – 10TH TO 12TH
RULES: Drawing students, you can upload/send only one entry via whatsapp or Email. Please ensure that you upload the correct file. No requests for changing the file that is submitted initially will be entertained.
Drawing Submission to start date: 21ST May 2020
Drawing Submission end date: 5th JUNE 2020
Results Date: 15th June 2020
DRAWING COMPETITION FEES – RS. 100/- ONLY
GOOGLE PAY ACCEPTED – 9841466923(KLOG FOUNDATION)
II) ABACUS ONLINE COMPETITION
SINGLE DIGIT ADDITION
DOUBLE DIGIT ADDITION
MULTIPLICATION
DIVISION
AFTER REGISTRATION, WE WILL SEND THE COMPETITION ONLINE LINK. AND ALSO, WE WILL SEND USERNAME AND PASSWORD. YOU CAN LOGIN AND PARTICIPATE THE COMPETITION. TIMING AND ACCURACY IS VERY IMPORTANT.
ABACUS REGISTRATION END DATE: 3rd JUNE 2020
ABACUS COMPETITION FEES – RS.150/- ONLY
GOOGLE PAY ACCEPTED – 9841466923(KLOG FOUNDATION)
Kids will be interested to participate online contest. And this Registration fees will be used as a POOR FAMILY FOOD AND EDUCATION RELIEF fund its makes them happy to do this service. This is an initiative to promote kids online contest these difficult times to raise funds for POOR FAMILY FOOD AND EDUCATION RELIEF.
PRIZE DISTRIBUTION
Totally 40 prizes will be distributed.
Certificate will provide for all participants and prizes will be given for the Winners drawings………
The Grand winners from each group from all the categories will get a certificate online.
The names of the Grand winners along with their photos and works will be immediately put on our all social media platforms.
All winners prizes will be distributed after Lock-Down Exact date will be announced.
INFORMATION TO NOTE:
Email: klogsara@gmail.com
Whatsapp message on +91 9841466923
Website: www.klogfoundation.org
Facebook: https://www.facebook.com/KLOG-Foundation-NGO-Charitable-TRUSTEducationHealthWelfare-activity-2234856286771683/notifications/
Please do not hesitate to e-mail us on klogfoundation@gmail.com or whatsapp messeage us on +91 9841466923, if you have any questions. Fill up the Details & Complete the Registration:
https://docs.google.com/forms/d/100vob3rxAAg7Ir8X_UVSFtD1pDTjY3wEAF4GIYjCTjM/edit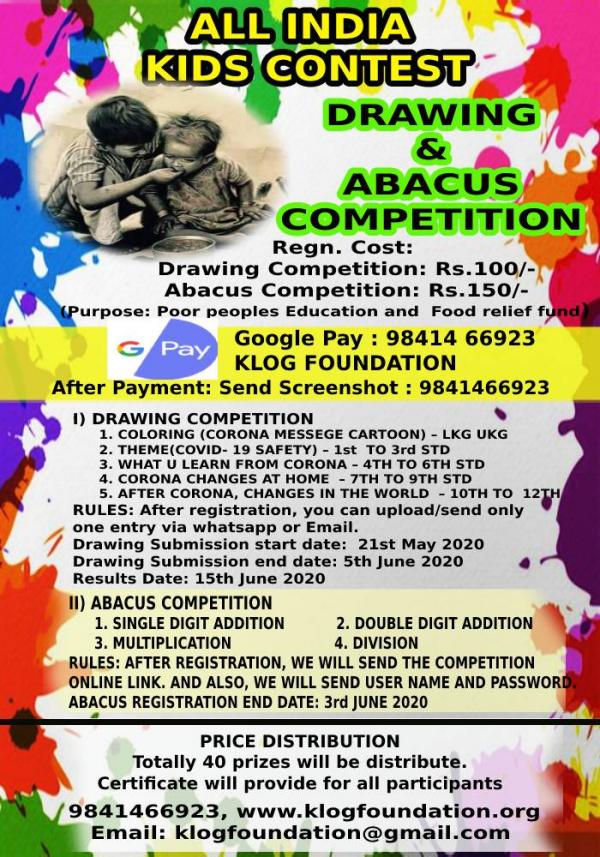 All India Covid 19 Online Contest 2020 | Drawing & Abacus Competitions