All India Level Children Drawing painting Competition 2019 – 2020 EVINCE is announced. This Competition is ONLINE Now.
The Competition is open to 1st to 12th grade/standard students.
Entry can be submitted by school / class / single student. Entries should be an individual efforts and not a combined work and "Not Copy Work ".
Every painting should carry the entry form and Xerox copy of school id card and passport size photo, and registration number at back of the painting.

1st and 2nd rank winner of the previous years will be eligible only for appreciation prize and not for the main prize.
ENTRY FEE & SUBMISSION OF PAINTING​
• Rs. 150/- for each entry ( in case of, more than 100 entries are submitted.)
• Rs. 200/- for each entry ( in case of, more than 50 entries are submitted.)
• Rs. 290/- for each entry ( in case of, more than 20 entries are submitted.)
• Rs. 390/- for single Entry. Special offer is announced for Social Media Friends ( Facebook Followers / Instagram / Youtube / Whatsapp Status followers.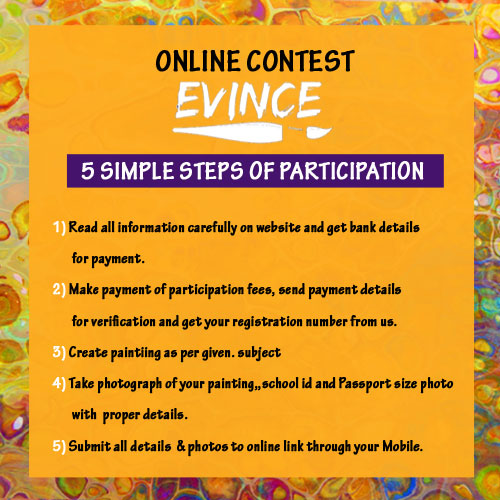 SUBMISSION Of PAINTING

• Submit following image through Email in between 30th march to 20th April 2020 ( SUBMISSION DATE )..
1) Painting with the registration Number, Grade, Group, Sign at bottom of the painting.
2) school id card image with registration number at bottom. 3) passport size photo with registration number at Bottom,
4) Application form.
above mentioned list should be filled & submitted separately through online link.
( participant will be given this link along with registration number through email after payment confirmation. )
Payment can be done by NEFT or MOBILE BANKING. Bank details can be asked through email mimaansaadrawing@gmail.com or whatsapp +91 8080874774.
• All other mode of payment like direct deposit, Cheque or demand draft, paytm, will NOT be considered valid.
For Complete Information : mimaansaapaintingstudio.weebly.com/drawing-competition-all-india-national-level-2019—2020.html