The BMW BERLIN MARATHON and SCC EVENTS are announcing the 15th drawing competition for children ages 4 to 14.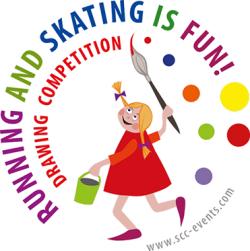 "Running is fun and skating is fun – together is even more fun". Draw or paint pictures of running or roller-skating events that you have taken part in. Draw yourself, your friends, mom, dad, grandma, grandpa, aunt, uncle, or a whole bunch of people running or roller-skating together.
During the BMW BERLIN-MARATHON EXPO, 500 pictures will be shown.
Details can be found at : https://www.bmw-berlin-marathon.com/en/juniors/drawing-competition
Children aged 4 to 14 can participate in the competition.
The size of the pictures should not be smaller than A5 and not larger than A3. Please only send one picture for each child and only the original. For each school or group a maximum of 20 drawings will be eligible for the contest.
Closing date: 31. July 2020
Online registration: http://malwettbewerb.bmw-berlin-marathon.com/app.php/register