Dear All,
Hi, this is Phoenix Academy. We Happy to invite you; the "#2020 challenge". Phoenix Academy is providing a great platform to unleash your children's unique talents. And help them to participate in as many contests as possible. Give your child the pride of participation and not winning. Let them FLY! They definitely come out with flying colors.
CATEGORIES:
TINY = 2 to 3 years / JUNIOR = 4 to 6 / SUB JUNIOR = 7 TO 10 / SENIOR = 11 to 14 / SUPER SENIOR = 15 to 17 / ADULT = 18 +
EVENT CATEGORY:
DRAWING (Video & Picture)
ESSAY WRITING (Video & Pictures)
HANDWRITING (Video & Pictures)
STORYTELLING (Video)
THIRUKURAL (Video)
FANCY DRESS (Video & Pictures)
RHYMES (Video)
SLOGAN TELLING (Video)
DANCE (Video)
MUSICAL (Video)
SINGING (Video)
YOGA (Video)
RULES & REGULATIONS:
The competition is conducted for school students all over the world. The competition will be conducted every month.
Participants who participated in 12 months will get Memento.
In 12 Month has to win 6 times Like 1st, 2nd or 3rd will get a trophy.
The competition will be a National Level conducted online.
After completion of our Drawing/Art send us courier.
For inquiries, u can contact us at any time.
The theme of the event will be updated every Month through WhatsApp.
Video timings should be between 1 – 3 min.
ADDRESS: S.Hema Hariharan, Phoenix Academy, 10, Lakshmipuram, Gandhi Nagar, Katpadi, Vellore – 632006.
Contact : 9360245907 / E- mail: phoenixacademy1981@gmail.com / Whatsapp: 9360245907
ENTRY FEE IS Rs. 200 PER EVENT
FOR 5 EVENTS Rs. 800 (one is a free event)
YOGA RNTEY FEE ALONE Rs. 350
Students can participate in any number of events. All participants will receive certificates and the winners will receive medals.
(Drawing/Hand Writing/Essay Writing) After completion in-home take a photograph and send us WhatsApp.
### JUDGES DECISION WILL BE FINAL
ALL THE BEST FOR THE PARTICIPANTS! ##2020 CHALLENGE##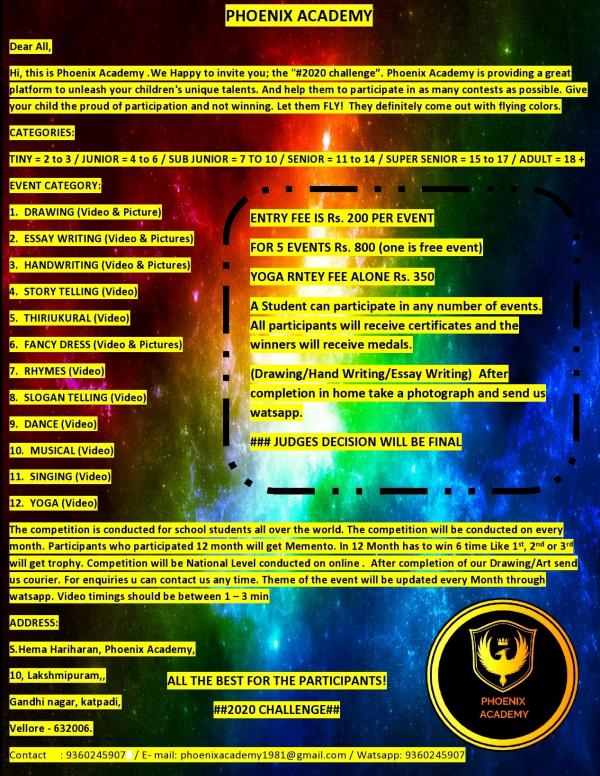 Phoenix Academy 2020 Challenge Contests