The Taganrog Local Government is inviting you to take part in the International Children's Art Contest "Anton Chekhov and Characters of his Works" to be held in his home city Taganrog in May 2020.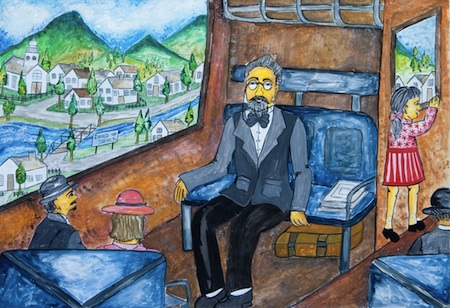 The International Children's Art Competition will be held for the tenth time in Taganrog and is dedicated to Anton Chekhov's 160th birth anniversary.
Download Contest Entry Form to participate in this contest.
Submit your completed entry to:
Foreign Relations Office
Taganrog Local Government
Ulitsa Petrovskaya 73
347900 Taganrog
RUSSIA
Students of children's art schools, schools of art, fine art studios, art clubs and individual amateur participants can participate in this international art competition. The contest is open to children from all around the world from age 4 to 17 years.
Topics:
Portrait of Anton Chekhov;
Illustrations to Anton Chekhov's works;
Humor in Chekhov's works;
Landscape in Chekhov's works;
Taganrog – the home city of Anton Chekhov;
Friendship between famous authors Anton Chekhov and Ivan Bunin.
All entries must be postmarked by February 28, 2020.
Notification of the art contest results: The winners will receive awards and diplomas in October 2020.
Exhibition: The exhibition and the awards ceremony will open on May 29, 2020 at the Taganrog Chekhov Central Public Library on Ulitsa Petrovskaya 96.
Awards:
Grand Prize
Winner diplomas
Participant diplomas and certificates
Catalogs
Email: artcontest2020@taganrogcity.com
Find More Details at https://www.samanthasbell.com/the-10th-international-childrens-art-contest/
http://taganrogcity.com/artcontest2020.html
10th International Children's Art Contest 2020 "Anton Chekhov and Characters of his Works"