Mayaa Eventz Makerz is planning to organize a Massive Record Exhibition titled "SALANGAIGAL 2020". Where around 2020 CLASSICAL DANCERS Will be Performing 15 mins doing Shivathandavam in the concept of Creating a human Natarajar logo formation exhibit their Talent . Objective of this event is to provide.A TRIBUTE TO GOD NATARAJAR . Our Event's Music and choreography by Mrs.Leelavathi Rajkumar(vijay tv & kalaignar Tv Famous) and many Celebrities will be witnessing this Event. Our supported academy is JATHI'S & THALAM FINE ARTS ACADEMY.
This event held on April 14th 2020, EVP Rajeswari palace, Porur, Kolapakkam.
General Rules & Regulations:
1.Registration Is Must. Rs.2000 only
2.Spot Entries /After Last Date Entries Are Strictly Not allowed.
3.Participant Should Bring Any Age Identity Proof.
4.Participants Should Bring All Event Related Things
5.Participants Will Be Allowed To Perform The Events In The Registration Order Wise.
6.certificates Will Be Distributed At The End Of Event.
7.organizers Reserves The Right To Admit Or Refuse Any Entry Without Assigning Any Reason Thereof And Also To Cancel/Alter Any Modifications On All Events.
8.Be On Time, Late Comers Will Not Be Allowed Strictly To Participate For Their Events Beyond allotted time.
9.Judges/Organizer's Decision Is Final And Binding On All Participants.
10.Registration Fee Will Be Refundable Only If organiser Cancelled The Event Due To Unavoidable Circumstances.
11.Lunch & Refreshments Will be Provided.
12.Costumes,jewellery and hair style image we will send
13.video song will be provided for practice
15.after 10 clk rehearsal will be started after 5 clk actual world record attempt will be started.
Benefits of the participants:
ALL the participants get participation world record participation certificate, medals, memento,battery lamp.
Food
Refreshments
Benefits of academy:
More than 50 registration from each Academy get world record supported academy certificate
Medal
Food
Refreshments
Add on honourable certificate also provided.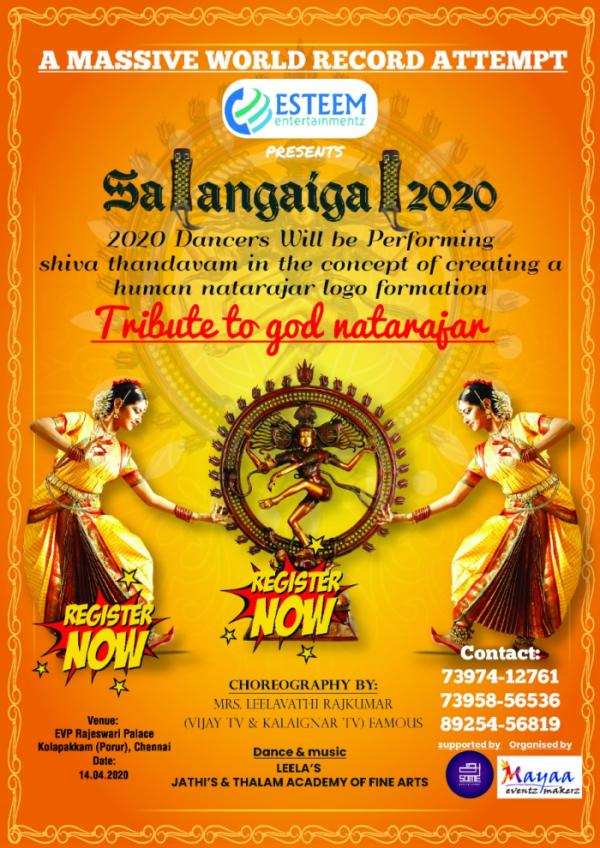 SALANGAIGAL 2020 – Massive Record Exhibition