Dear All
Happy to inform you that Vibha Culturals – on line competition, due to demand is conducted on Stage at the below given address. Registration a must.
INTERNATIONAL "VIBHACULTURALS"
LEVEL I – SCHOOL & COLLEGE LEVEL (STATE SELECTION) ON STAGE – COMPETITION
Dear All .
Hi,This is "VIBHA SCHOOLS"
Happy to invite you to,the "VIBHACULTURALS"
VIBHA is providing a Big Arena for your Children to Express their Inner and Unique Talents. Help them to participate in as many contests as possible.
Give your child the proud of participation and not Winning. Let them FLY.
CATEGORY : TINY TOTS SUB -JUNIOR JUNIOR SUB-SENIOR SENIOR SUPER. SR
GRADE : NURSERY,KG, I.II.III, IV.V.VI, VII.VIII.IX, X.XI.XII UG, PG
EVENT CATEGORIES : (Theme : Republic day)
DRAWING / ESSAY WRITING / HAND WRITING / STORY WRITING / ABACUS WRITING / ABACUS ORAL / PHOTO / SELFIE / VEDIC MATHS
– The competition is conducted for school students all over India
– The competition consists of Four levels .
– Level 1 Competition (State Selection) will be conducted at your centre / on-line
– For Level 1 on line, individual to contact thro' mail or whatsapp, make payment and send the competition materials (Drawing sheet, Photos, Handwriting, Essay writing, Video etc.) to our address. Theme of the event is left to the individuals, they can select their own. Video timings should be between 1 – 3 mins
All participants can donate for trust development – Level 1 donation is Rs. 300 per event
– An application donation Rs.100 per applicant to be made
– A student can participate in any number of events
– Appreciation Certificates will be provided for all participants with their grade.
– Level 1 Competition will be conducted at SBA ACADEMY centre
– Level 2 Competition will be conducted on stage,Date &venue will be informed later
– Level 3 Competition will be conducted on line, winners of Level 2 are eligible for participation
– Final Level (International) competition will be conducted on line
EVENT VENUE :
LEVEL 1 ON STAGE
VENUE : SBA Academy and International Play school
11/7 ,9th Street SVS Nagar Valasaravakkam
(Contact : 9841393342)
Date :Jan 25 SCHOOL & COLLEGE
level Time :10.00 a.m.05.00 p.m.
for more details
Contact : 99400 98980 / 99622 72688
E-MAIL : vibhaculturals@gmail,com
WhatsApp : 9962239888 / 9962287888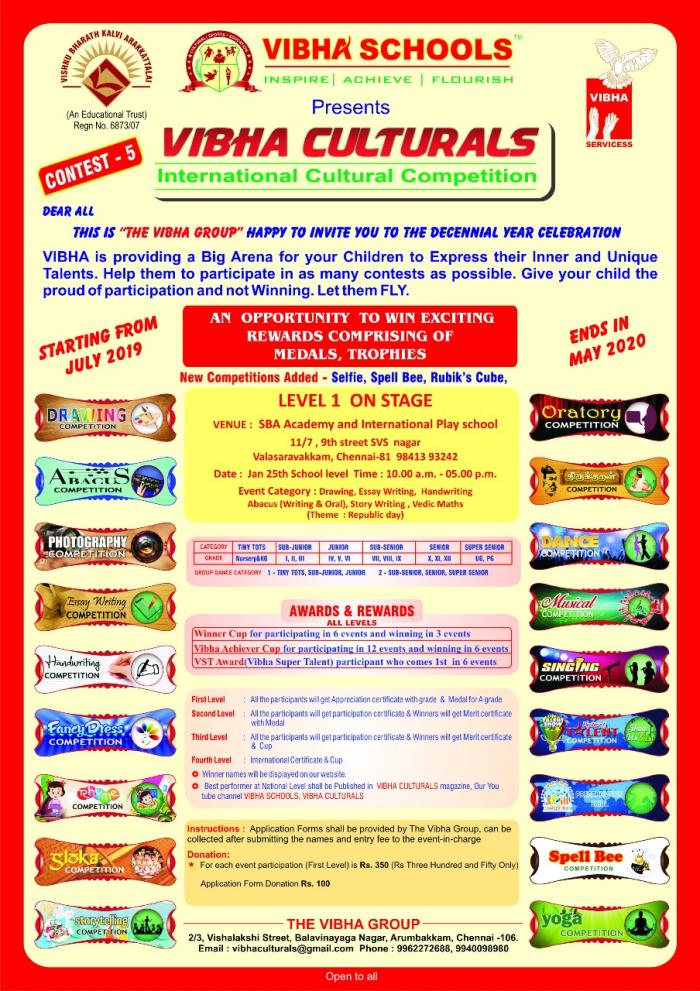 INTERNATIONAL "VIBHA CULTURALS" ON STAGE – COMPETITION