Blooming Minds Brainery State Level Abacus & Drawing Competition 2019.
BMB – BLOOMING MINDS BRAINERY
Regd. Under ISO 9001:2015, Certification No. 1821/Q/BM0502
Plot no. 8, D.no. 2, Rosily nagar, Chitlapakkam, Chennai – 64.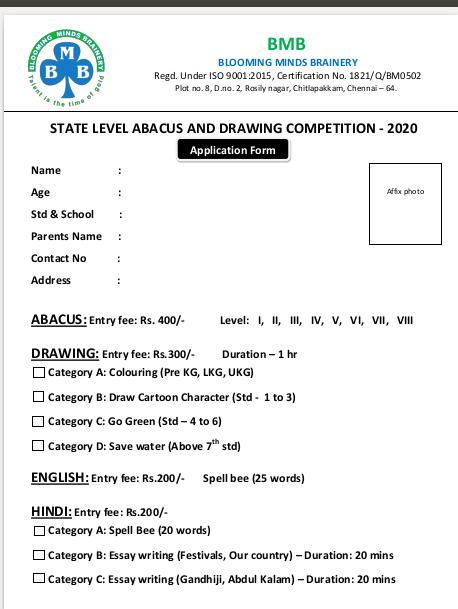 Competition date: 05 January 2020
Time: 9 am to 1 pm
Venue: BBR Nagar welfare association hall, #1, Bhuvaneswari
Nagar, Chromepet, Chennai – 44.
*Last date of Sending the Applications 30-Dec-2019 (Spot admissions are allowed).
For Payment of Fee Details, please contact the organizer
General Instructions:
 Participants should bring their own exam pad, pencil, eraser and abacus kit.
 Drawing participants have to bring their own drawing materials like pencil,
crayons, water colours, waste cloth, scale, etc.. Only A4 size chart will provide at
venue.
 Participants should bring their school ID card as proof.
 Students are requested to assemble 15 minutes before at venue.
 Judges decision will be final.
 Winners will be selected for first 3 places in each category and will be honored
with trophy/medals and certificates.
 Participant certificate will be given for all participants.
 Registration fee will not be refunded.