VIBHA FESTIVAL OF INDIA
(ALL INDIA FESTIVAL COMPETITION)
COMPETITION – 07 MONTH OF. NOVEMBER
THEME :(TOPIC) ) DIWALI
MONTHLY ON-LINE COMPETITION
Greetings from "VIBHA SCHOOLS"
"VIBHA FESTIVAL OF INDIA" Diwali is the Theme for the Month, Come, Draw, Write, Dress etc., and Enjoy the festival with VIBHA
Diwali is the Hindu festival of lights, typically lasting five days and celebrated during the Hindu Lunisolar month Kartika (between mid-October and mid-November). One of the most popular festivals of Hinduism, Diwali or Deepavali symbolises the spiritual "victory of light over darkness, good over evil and knowledge over ignorance". The festival is widely associated with Lakshmi, goddess of prosperity, but regional traditions connect it to Rama, Vishnu, Krishna, Durga, or Kali.

EVENT CATEGORY :
COLORING(OR)DRAWING / ESSAY WRITING / HAND WRITING / FANCY DRESS / STORY TELLING / STORY WRITING / ORATORY / SELFIE / PERSONAL TALENT / PHOTO WHILE CELEBRATION, THEME : (TOPIC) DIWALI
CATEGORY : TINY TOTS SUB-JUNIOR JUNIOR SUB-SENIOR SENIOR SUPER. SR
GRADE : NURSERY,KG, I.II.III, IV.V.VI, VII.VIII.IX, X.XI.XII UG, PG
– The competition is conducted all over India
– The competition consists of ONLY ONE level .
– Competition is on-line
– Individual to contact thro' mail or whatsapp, make payment and send the competition materials (Drawing sheet, Photos, Handwriting, Essay writing, Video etc.) to our address through courier. Theme of the event is the respective festival. Video timings should be between 1-3 mins
– Donation is Rs. 250 per event
– For 6 events Rs. 1500 (Rs.250 per event)
– An application donation Rs.100 per applicant to be made
– A student can participate in any number of events
– Participation Certificate & Medal will be provided for all participants for each event
– Merit certificate & medal will be given to the Winners
– If a individual participates in 6 events and win 3 events, a cup will be given every month. If a individual wins 12 cups in a year a Big Trophy will be given free
– The Decision of the judges will be final and binding
Start Date : 10/11/2019 End Date : 10/12/2019
Last date for Registration 28th NOVEMBER 2019
Last date for Submission 08th DECEMBER 2019
(Drawing, Handwriting, Photos Video etc.)
Event Venue :
VIBHA SCHOOLS (CHENNAI)
INSPIRE / ACHIRVE / FLOURISH
2/3, Visalatchi Street,
Bala Vinayagar Nagar,
Arumbakkam, Ch-106.
THE VIBHA GROUP (CHENNAI)
(CULTURAL / SPORTS / EDUCATION )
Contact : 99400 98980 / 99622 72688
E-mail : vibhafestivalofindia@gmail.com
E-mail : thevibhagroup@gmail.com
WhatsApp : 9962239888 / 9962287888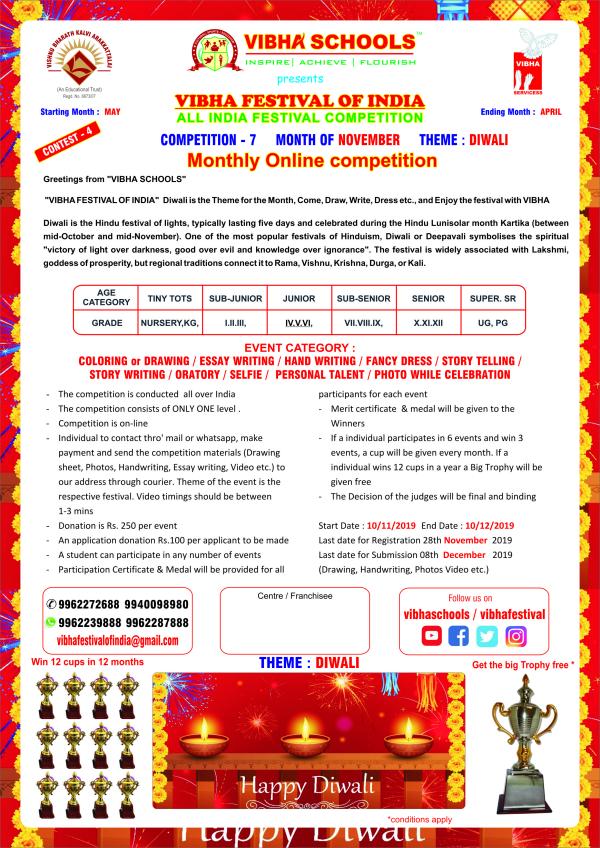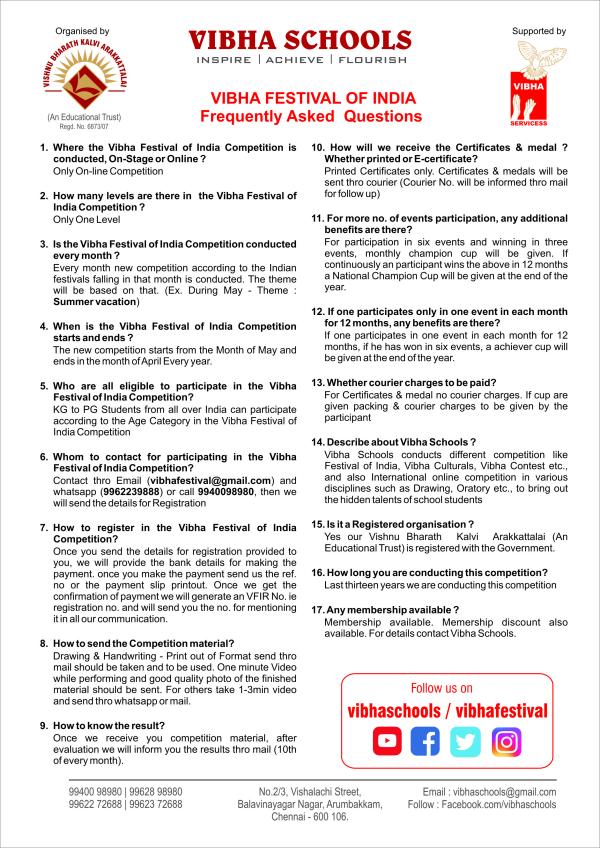 VIBHA Festival of India-2019-20 Month of November – Monthly Online Competition