Welcome to the Sci-Toons series of workshops.
"Knowledge is the eventual extension of imagination". From imagination, we can see how our thought processes evolve and expand towards greater ideas.
In these workshops, kids will learn how to draw Science basked Cartoon characters, understand the Emotions of Shapes and explore the Colors of Imagination. They will explore how to transform scientific phenomena and objects into cartoons. The theme of the workshop is Space.
Let the right brain draw what the left brain says! As we know the right brain is creative and the left brain is logical, let us exercise both.
This is a kid only event.
Edumaze is a group of scientists interested in the artistic aspects of Science and Mathematics. They create innovative strategies for learning and engage kids with experiential learning. They conduct programs to explore the creative edges of science and mathematics. They have conducted over 30+ creative workshops in Bangalore, Coimbatore, and Chennai. It is a group of people from varied backgrounds – Electronics, Mechanical Engineering, Physics, and Biotechnology. They do research at IIT, Madras, while also take time to explore their passion. The founder has received two state-level awards for innovation in education and one national-level Young Innovator and Teacher award.
Venue: Wandering Artists, RA Puram, Chennai
Conducted by Edumaze
On: November 24, 2019
Time : 10 am to 12 noon
Ages: Class 6 & above
Fee: Rs. 600/-
For More Details, see the poster below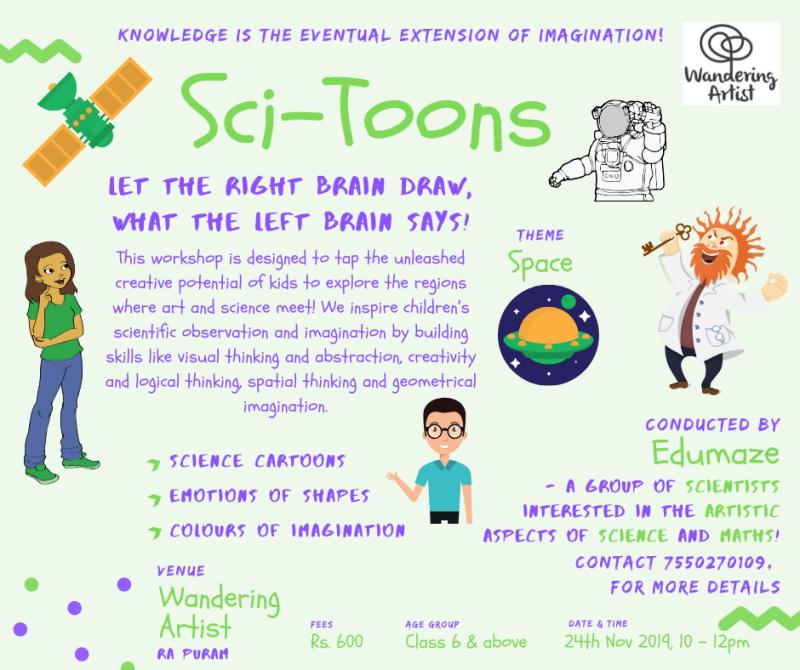 Sci-Toons Series of Workshops