STATE LEVEL DRAWING COMPETITION COLOURINA 2019
CATEGORY:
CLASS : KINDERGARTEN THEME: COLOUR THE GIVEN PICTURE
CLASS : 1,2 & 3 THEME: CAPTURE A SCENE – NATURE
CLASS: 4,5 & 6 THEME: SAVE WATER
CLASS: 7,8 & 9 THEME: AN INDUSTRIAL FESTIVAL
CLASS: 10,11 & 12 THEME: DOODLE ART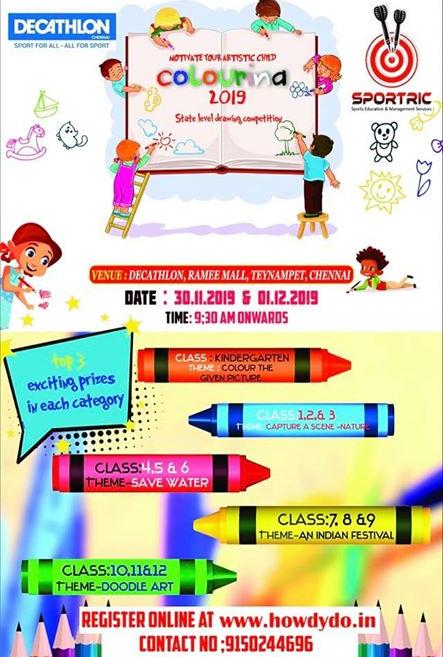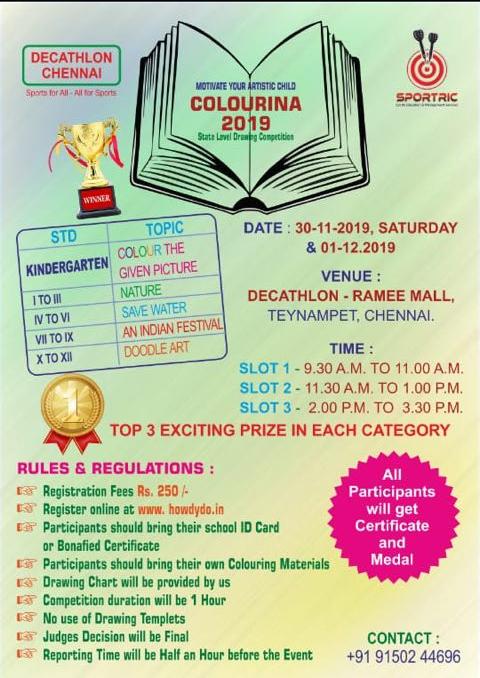 RULES:
1) Registration fee per participant Rs-250/-
2) The prize winners will be announced within 2 days from the date of competition through phone/WhatsApp
3) Judges decision will be final. The top 3 winners from each category will get exiting prizes along with certificate.
4) participation certificate and medals for all participants.
5) Drawing sheets will be provided. participants are requested to bring their own materials.
6) No refund of registration amount once the payment is done. In case the organizer cancel the event, the amount will be refunded.
7) No reference diagram should be used during competition.
For Any Query Contact – 9150244696
Venue: Decathlon Teynampet, Ramee mall, Next to Hyatt Hotel,Teynampet – 600017