National Handwriting Competition 2019 by Ask India Society. This is the 10th National Level Competition. The competition started in the year 2010, this competition sees over 200 Schools and 3 lakh Students participate every year.
Students are awarded at School Level, District Level, State Level and National Level.
Category A – Students of standard: I, II, III and IV.
Category B – Students of standard: V, VI, VII and VIII.
Category C – Students of standard: IX, X, XI and XII.
Date of Exam can be any day as per the convenience of the school management. The Last date to finish the exam is 30th November 2019. The answer sheets should reach ASK Learning Centre, Hyderabad by 15th December 2019. 20 minutes will be allocated to each category.
The enrollment fees is Rs. 100/- (Rupees Hundred Only) per participant / student for Private Schools and Rs. 50/- (Rupees Fifty Only) per participant / student for Government Schools.
School students can also participate in this competition directly if the School they are studying in is not taking part in this competition.
The students (or their parents) have to email their consent to participate. Email IDs: info@handwritingcompetition.com, askindia.southindia@gmail.com
For these Open Category students, the participation fee is Rs. 200/- each (Rupees Two Hundred only).
More details at https://www.handwritingcompetition.com/pattern.html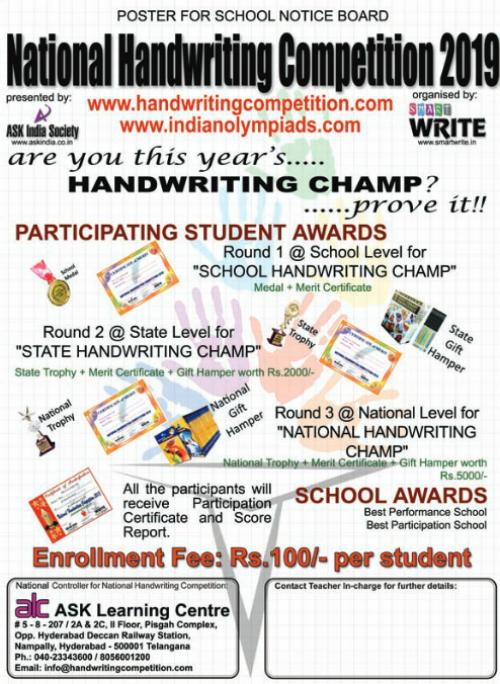 National Handwriting Competition 2019 by Ask India Society