Bricsmath.com is an Annual International Online competition in Mathematics / General Ability for students of grades 1-12 in countries Brazil, Russia, India, China, and South Africa.
Trial round will be held from Oct 12 to Nov 12, 2019.
The trial round gives students an opportunity to practice before the main round.
The results of the trial round do not affect the main round.
Main round – 60 minutes
From Nov 13–Dec 13, 2019
In the main round, students have 60 minutes to complete all the tasks. It is not mandatory to complete the trial round to participate in the main round.
Once the student logouts, the test is automatically submitted.
The BRICSMATH competition focuses on logical thinking and does not require any in-depth knowledge of school curriculum.
All participants and teachers will be rewarded with certificates.
Details at https://in.bricsmath.com/
Notification from CBSE regarding Bricsmath.com Competition : http://cbseacademic.nic.in/web_material/Notifications/2019/83_Notification_2019.pdf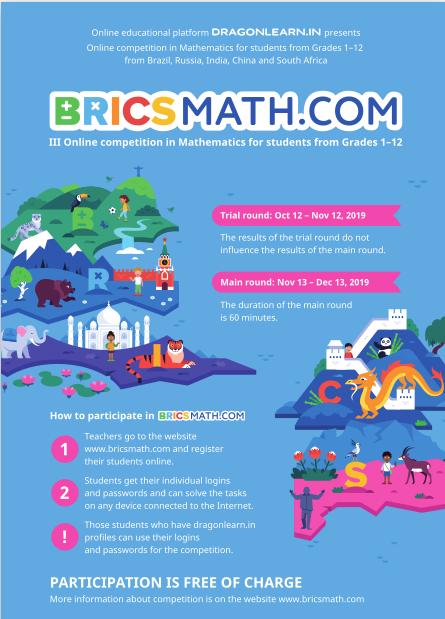 Bricsmath.com Annual International Online competition in Mathematics / General Ability for students of grades 1-12