Vijayadasami Admissions Open
Aksharabhyaasam / Vidyaarambham
A Great Way to Start Your Child Early Education
VIJAYADASAMI ADMISSIONS OPEN
Play group * Nursery, Pre K.G * L.K.G (PP1) * U.K.G (PP2)
Day Care & After School Care Facilities Available
Age – From 1.5 Years Onwards
'Vidya' means knowledge and 'Arambham' means to start or to begin. Vidyarambham is the day a child is formally inducted into the world of education. Vidyaarambham is a traditional function in which the child is given initiation of education so that the child is ready to receive formal education.
with our Experts designed Preschool Programs – on this Day, Give your Child a solid foundation of an Early Education with Regular, Montessori and Play way Learning Methods. Our Individualized Education plans helps the Children to know their Strengths / Weaknesses and help them to learn in a right way at the right age
Our Strengths are a Well Trained Teachers / Care Takers, Individualized Education Plans, Customized Teaching Tools & Materials, Interactive Play Sessions and Concepts, which helps our children to develop Multiple Intelligence Skills and make them ready to face the formal education system easily & confidently (through our School Readiness Program)
Special Offers on Vijayadasami Admissions
Enroll now & Get 50% Discount on Fee*
and
Get Assured Surprise Gifts
on
Aksharabhyasam / Vidyaarambham
08.10.2019
and On the Joyous and Auspicious occasion of Vijayadasami Gift them the Joy of Learning through Play & Fun
Wish you a Happy Vijayadasami
We Solicit Your Esteemed Presence on this Auspicious Occasion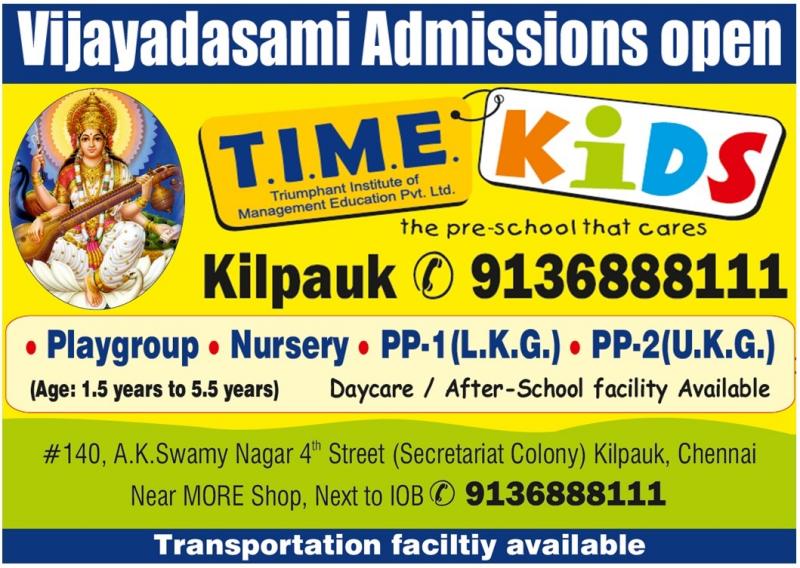 80% of the Brain Development Happens under the Age of 8. Between the age of 2 to 4 years the brain will bloom twice as many as synapse. Stimulating activities are crucial for this!. Synapses that are stimulated often become stronger and complex and Early Sensory experiences keeps the synapses alive.
Children need to be actively engaged in different areas to strengthen their synapse and develop Holistically
Our Specially Designed Curriculum focuses on Gross Motor Skills, Fine Motor Skills, Spatial Skills, Cognitive Skills, Communication & Langauge, Personal, Social & Emotional Development, Gross Motor Skills, Fine Motor Skills, Communication & Langauge, Expressive Arts & Fun Crafts, Imagination, Numerical Concepts, Sensorial Development, Literacy, Critical Thinking & Problem Solving, Science, Phonicsm.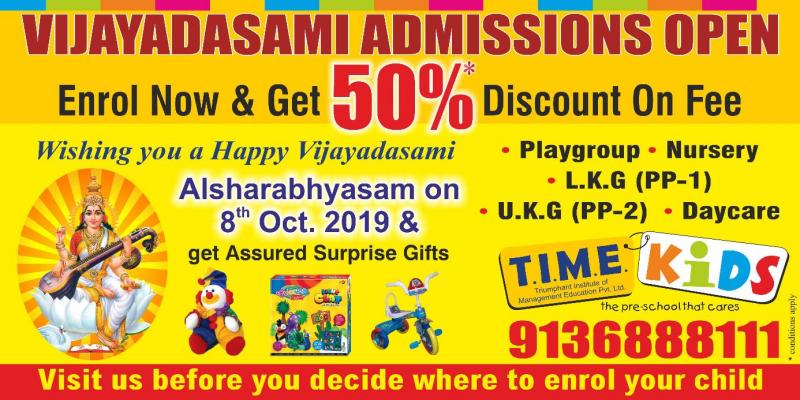 Advantages
Motivating and Engaging Learning Environment
Interactive and very Friendly approach
Day Care Facilities Available (A Home Away from Home)
Extended School Care also available on Request
Transporation Facility available
Transfer Facilities available
Safety, Health and Hygiene
Best in Class Gym Equipments & Safety Flooring
Kids Loving Indoor Play Stations
Visit us before you decide where to enroll your child
After School / Evening / Weekend Activities
Drawing Classes | Painting Classes | Vocal – Carnatic | Bajans | Dance – Bharathanatyam | Karate Classes | Keyboard Classes | Yoga | Kids Yoga | Chess Classes | CueMath | Abacus | Speed Maths | Vedic Maths | Little Learner Phonics Classes | English for Kids | Robotics Classes for Kids | Hand Writing Classes | Speed Writing Classes | Tuitions for Classes & All Subjects | Language Classes – Hindi & Tamil | Olympiad Training & Worksheets