Greetings from Mayaa Eventz Makerz!! to felicitate the winners of the competition.
We like to take though our conscientious Journey. Mayaa Eventz Makerz comes to existence to Nurture the hidden talent among the people of Tamil Nadu, Thus providing them a platform to bring out their inherent or learnt talents and get acknowledged for the same since 2014.
In continuation to our Conscientious Journey, we are going to reach yet another milestone by conducting Mass World Record Event Titled "CHENNAILYIL ORU SADHANAI THIRUVIZHA".SEASON 2. This event tribute to Dr.APJ .ABDUL KALAM 88TH BIRTHDAY CEREMONY.Not only this we are going to organize 20 different types of world records.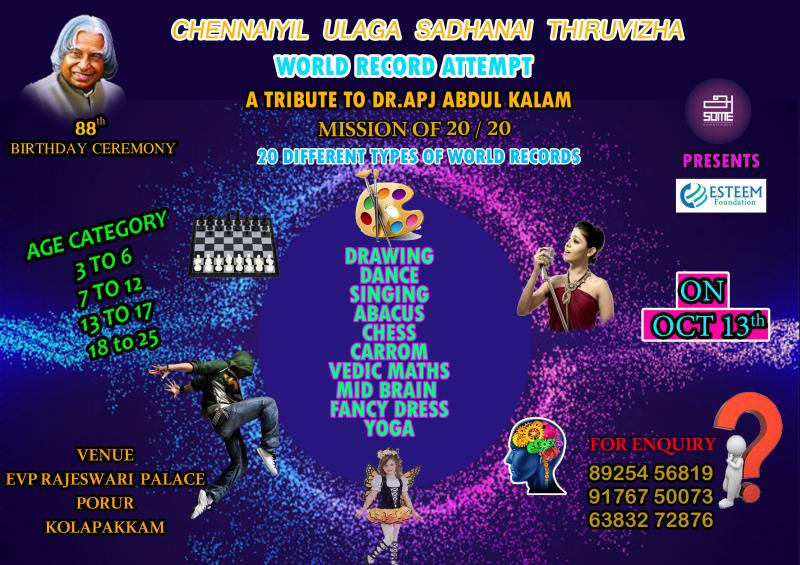 It's a Festival of world records in which number of event will take place and around 5000 Children will participate to exhibit concealed talent.
Students will be given platform to bring out their hidden talents and make the dream come true to become a World Record Holder.
We appreciate your School's participation and support this Mass World Record of "CHENNAILYIL ORU SADHANAI THIRUVIZHA".SEASON 2.This event tribute to Dr.APJ .ABDUL KALAM 88TH BIRTHDAY CEREMONY.
We invite you to become a part of GREAT ACHIEVEMENT and support us to make this event a great success.
General Rules & Regulations:
1.Registration Is Must. (Problem Creating Parent Are Not Entertained)
2.Spot Entries /After Last Date Entries Are Strictly Not Allowed/ Entertained.
3.Songs And Karaoke Must Be In Single CD / pen drive To Save Time.
4.Keep Songs And Karaoke In Another CD pen drive / To Stand By.
5.Participant Can Participate More Than 5 Events.
6.Participant Should Bring Any Age Identity Proof.
7.Participants Should Bring All Event Related Things
8.Participants Will Be Allowed To Perform The Events In The Registration Order Wise.
9.Prizes Will Be Distributed At The End Of Each Event.
10.organizers Reserves The Right To Admit Or Refuse Any Entry Without Assigning Any Reason Thereof And Also To Cancel/Alter Any Modifications On All Events.
11.Be On Time, Late Comers Will Not Be Allowed Strictly To Participate For Their Events Beyond The Allotted Time
12.The Allotted Time For Every Event May Vary More Or Less By Participants.
13.Judges/Organizer's Decision Is Final And Binding On All Participants.
14.Registration Fee Will Be Refundable Only If organiser Cancelled The Event Due To Unavoidable Circumstances.
15.Lunch Will Not Be Provided.
NOTE: REGISTRATION FEES DETAILS
EACH COMPETITION REG .FEES. = RS.200 ONLY
RS.800 REG.FEES COMBO PARTICIPATE 5 COMPETITIONS.
DRAWING WORLD RECORD PARTICIPATION RS.500 ONLY GET FOOD ,WORLD RECORD PARTICIPATION CERTIFICATE,MEDALS,WORLD RECORD STAMP.
Benefits of the participants:
Certificate and Medals will be given to all the participates.
Certificate and Winner & Runners up Medal will be given toWinners and Runners up.
Winner of all categories will receive vouchers, momento,Apj Award.
WINNERS AND RUNNERS GET AFFORDABLE GIFTS
CONTACT : 6383272876
Chennailyil Oru Sadhanai Thiruvizha – Season 2 | Kids Multi Talent Contest