Dear all
THE BIG STAGE FOR CHILDREN TO SHOWCASE THEIR UNTAPPED, UNIQUE TALENTS
VIBHA SCHOOLS, by the Founder of Vishnu Bharath Kalvi Arakatalai (An Educational Trust),Vishnu Bharath Yoga Kalai Koodam (A Charitable Trust), has been involved in various kinds of activities and services for the underprivileged children in and around Tamil Nadu. We are associated with young minds for a longtime and felt need for a platform to explore and exhibit their hidden talents.

We are proud to announce and invite your school to participate in the " VIBHA CULTURALS".

This competition, which will begin during July and ends in November , is an excellent opportunity for your students to discover their skills.

We take this opportunity in requesting you to inform students and make them participate in our competition (Drawing, Photography, Handwriting, essay Writing, Oratory, Story telling, Sloka telling, Rhymes, Fancy Dress, Thirukkural, Personal Talent, Presentation Skill, Dance, Musical, Singing,Yoga Abacus) that will lead us in identifying talents and also will give your students an opportunity in contending at National level.

All Levels of the competition will be conducted online only.

Our certificates and medals are valued and appreciated by parents and recognized by numerous schools. Based on the number of participants, schools are honoured.

If the no. of event participation is more than 6 / 12, Special Trophy will be given.
Expecting Good participation
VIBHA SCHOOLS ( CHENNAI )
INSPIRE / ACHIEVE / FLOURISH
Contact : 9940098980 / 9962272688
E-mail : vibhaculturals@gmail.com
WhatsApp : 9962239888 / 9962287888
VIBHACULTURALS-2019-20
( INTERNATIONAL CULTURAL COMPETITION )
LEVEL I – SCHOOL LEVEL (STATE SELECTION)
ON-LINE – COMPETITION
Dear All .
Hi, This is "VIBHA SCHOOLS"
Happy to invite you to,the "VIBHACULTURALS"
VIBHA is providing a Big Arena for your Children to Express their Inner and Unique Talents. Help them to participate in as many contests as possible. Give your child the proud of participation and not Winning. Let them FLY.
CATEGORY : TINY TOTS SUB -JUNIOR JUNIOR SUB-SENIOR SENIOR SUPER. SR
GRADE : NURSERY,KG, I.II.III, IV.V.VI, VII.VIII.IX, X.XI.XII UG, PG
GROUP DANCE : 1 – TINY TOTS, SUB-JUNIOR, JUNIOR
2 – SUB-SENIOR, SENIOR, SUPER SENIOR
EVENT CATEGORY :
DRAWING / ESSAY WRITING / HANDWRITING /ORATORY / THIRIUKURAL / FANCY DRESS / RHYMES / STORY TELLING / SLOKA TELLING / DANCE / MUSICAL / SINGING / YOGA / VEDIC MATHS /
DUBSMASH / SELFIE / PHOTO / RUBIK'S CUBE PRESENTATION SKILL / PERSONAL TALENT /STORY WRITING / ABACUS WRITING/ ABACUS ORAL

– The competition is conducted for school students all over the world
– The competition consists of Four levels .
– Level 1 Competition (State Selection) will be conducted on-line
– For Level 1 on line, individual to contact thro' mail or whatsapp, make payment and send the competition materials (Drawing sheet, Photos, Handwriting, Essay writing, Video etc.) to our address. Theme of the event is left to the individuals, they can select their own. Video timings should be between 1 – 3 mins
All participants can donate for trust development

– Level 1 donation is Rs. 350 per event
– For 6 events Rs. 1500 (Rs.250 per event)
– An application donation Rs.100 per applicant to be made
– A student can participate in any number of events
– Appreciation Certificates will be provided for all participants with their grade and a Medal
Level -1 , Drawing, Hand writing, Essay Writing,
after completion in home take photographs Send whatsapp
– The Decision of the judges will be final and binding
Start Date : 01/07/2019 End Date : 30/05/2020
VIBHACULTURALS-2019-20
( INTERNATIONAL CULTURAL COMPETITION )
LEVEL I – SCHOOL LEVEL (STATE SELECTION)
ONLINE – COMPETITION
LEVEL II – STATE LEVEL ( NATIONAL SELECTION)
ON LINE – COMPETITION
LEVEL III – NATIONAL LEVEL ( INTERNATIONAL SELECTION)
ON LINE – COMPETITION
LEVEL IV –INTERNATIONAL FINAL
ON LINE – COMPETITION
Event Venue :
VIBHA SCHOOLS (CHENNAI)
INSPIRE / ACHIRVE / FLOURISH
2/3, Visalatchi Street,
Bala Vinayagar Nagar,
Arumbakkam, Ch-106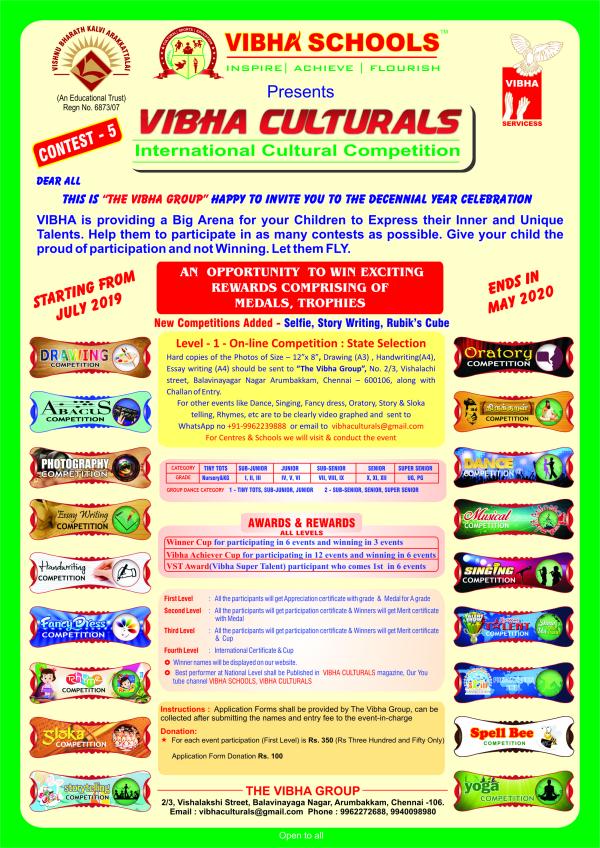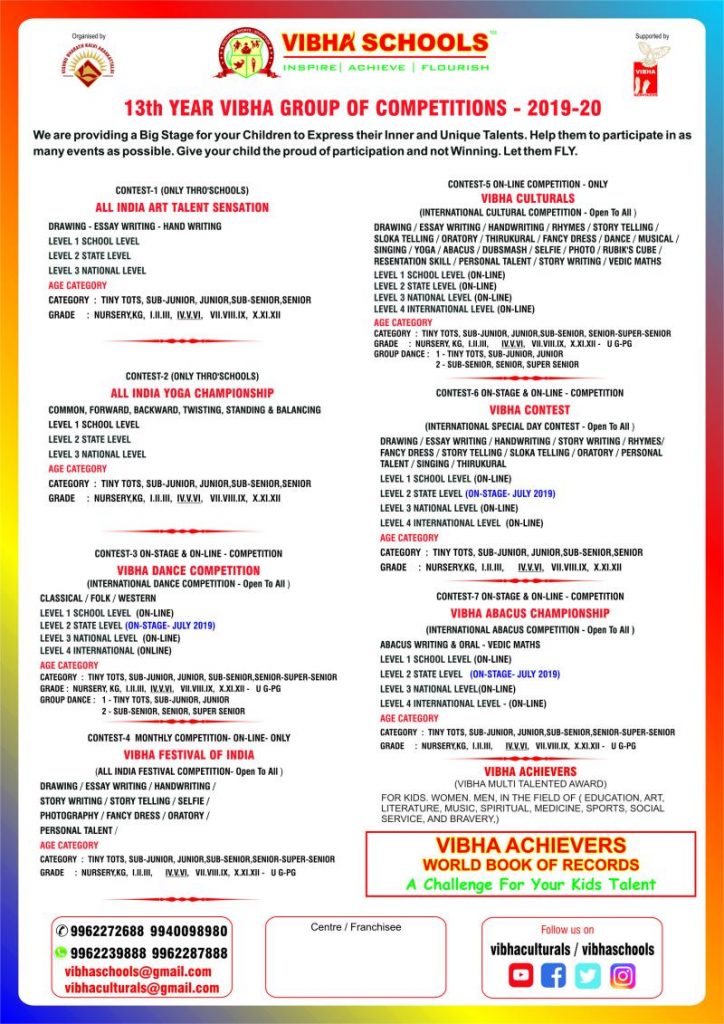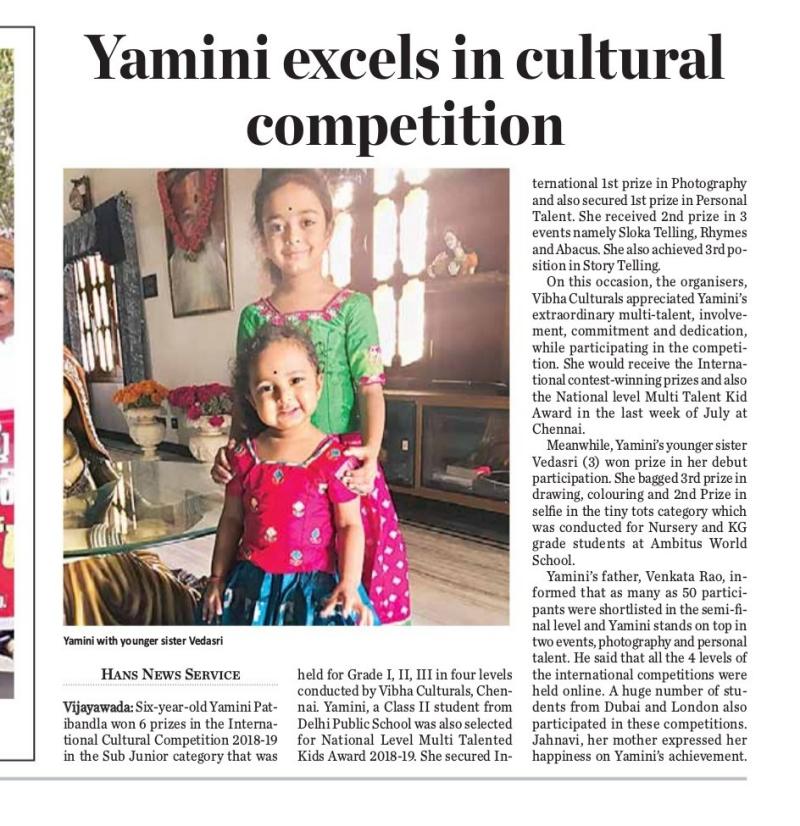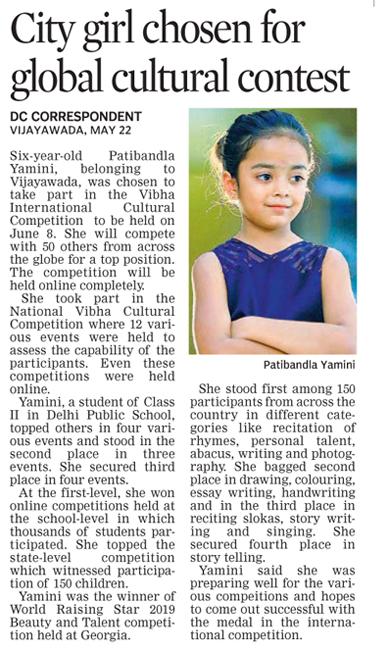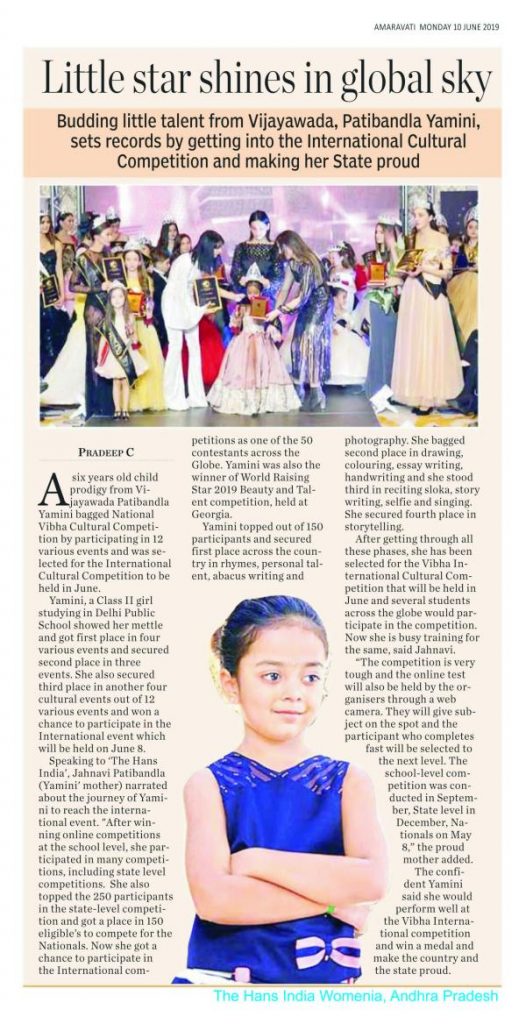 VIBHACULTURALS-2019-20 ( International Cultural Competition ) Yearly Online Competition