Quest-for-Art-2019 2nd National Online ART Contest. Kaladhaam organizes online 2nd national art competition for children and artists.
Registration Open till 31st July, 2019
For Registration and More Information : http://kaladhaam.com/quest-for-art-2019-registration.aspx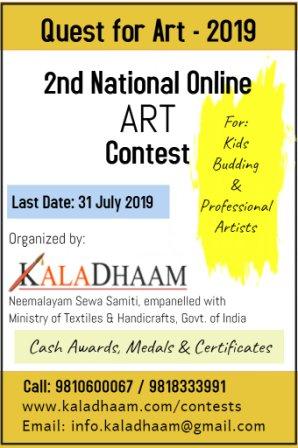 The competition is open to artists from all age groups. Artists are invited to submit paintings in any medium and any topic.
Artists, Fine art students, Art Lovers and Professionals show your talent as the topic is 'My Art My Passion' use any color medium except craft work.
Every participating artist is appreciated through a 'Participation Certificate'. All the winners of the competition are provided with a monetary award, a merit e-certificate, an opportunity to display their work at the art gallery.
Quest for Art – Online National Art Contest 2019