VIBHA FESTIVAL OF INDIA


(ALL INDIA FESTIVAL COMPETITION)
COMPETITION –

01

MONTH OF.

MAY


THEME :
(TOPIC)
SUMMER VACATION
MONTHLY

ON-LINE COMPETITION
Dear All .
Hi,This is "VIBHASCHOOLS"
Happy to invite you to,the "VIBHA FESTIVAL OF INDIA"
VIBHA is providing a Big Arena for your Children to Express their Inner and Unique Talents. Help them to participate in as many contests as possible. This competition is specifically designed to let the children be aware of the Various Festivals we celebrate and to spread the culture of our country.
Give your child the proud of participation and not Winning. Let them FLY.
CATEGORY : TINY TOTS SUB-JUNIOR JUNIOR SUB-SENIOR SENIOR SUPER. SR
GRADE : NURSERY,KG, I.II.III,
IV.V.VI
, VII.VIII.IX, X.XI.XII UG, PG

EVENT CATEGORY :
COLORING( R )DRAWING / ESSAY WRITING / HAND WRITING / FANCY DRESS / STORY TELLING / STORY WRITING / ORATORY / SELFIE / TERSONAL TALENT /
PHOTO WHILE CELEBRATION
– The competition is conducted all over India
– The competition consists of ONLY ONE level .
– Competition is on-line
– Individual to contact thro' mail or whatsapp, make payment and send the competition materials (Drawing sheet, Photos, Handwriting, Essay writing, Video etc.) to our address through courier. Theme of the event is the respective festival. Video timings should be between 1 – 3 mins
– Donation is Rs. 250 per event
– An application donation Rs.100 per applicant to be made
– A student can participate in any number of events
– Appreciation Certificates will be provided for all participants with their grade.
– Merit certificate will be given to the Winners
– Extraordinary participant will be given a trophy at the end of the year (
APRIL
2020)
– The Decision of the judges will be final and binding

Start Date :10/
05
/2019 End Date :10/
06
/2019
Last date for Registration 28th
MAY
2019
Last date for Submission 08th
JUNE
2019
(Drawing Handwriting,Photos Video etc.)


Event Venue :


VIBHA SCHOOLS (CHENNAI)


INSPIRE / ACHIRVE / FLOURISH
2/3, Visalatchi Street,
Bala Vinayagar Nagar,
Arumbakkam, Ch-106.



THE VIBHA GROUP

(CHENNAI)
(CULTTURAL / SPORTS / EDUCATION )


Contact : 99400 98980 / 99622 72688




E-mail :

vibhafestival@gmail.com


E-mail :

thevibhagroup@gmail.com


WhatsApp : 9962239888 / 9962287888
MONTHLY

ON-LINE COMPETITION
THEME : (TOPIC)
MAY – SUMMER VACATION
JUNE – RAMZAN,/ ONAM
JULY – INDEPENDENCE DAY
AUGUST – KRISHNA JAYANTHI
SEPTEMBER – VINAYAGAR CHATHURTHI
OCTOBER – NAVARTHIRI (AYUDHAPOOJA)
NOVEMBER – DIWALI
DECEMBER – CHRISTMAS
JANUARY – PONGAL
FEBRUARY – MAHASIVARATHIRI
MARCH – HOLI
APRIL – HANUMAN JAYANTI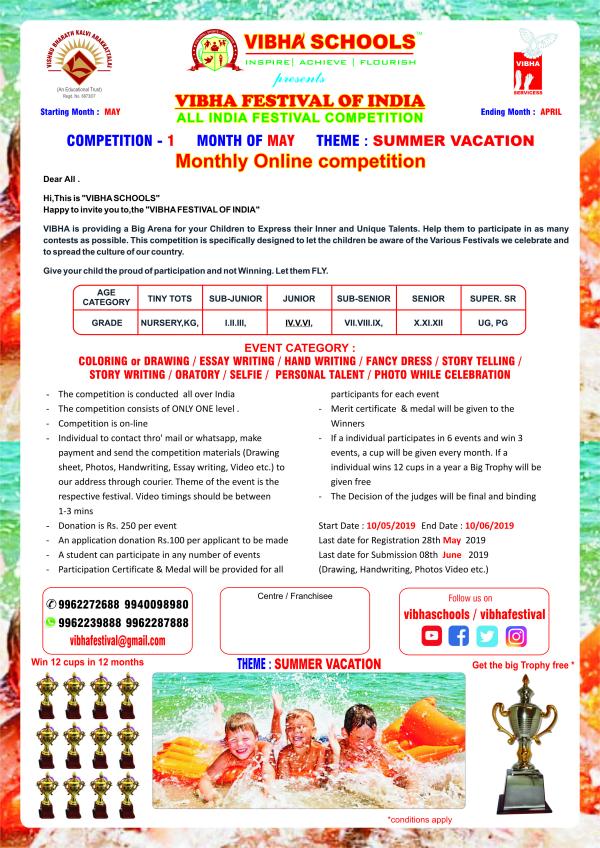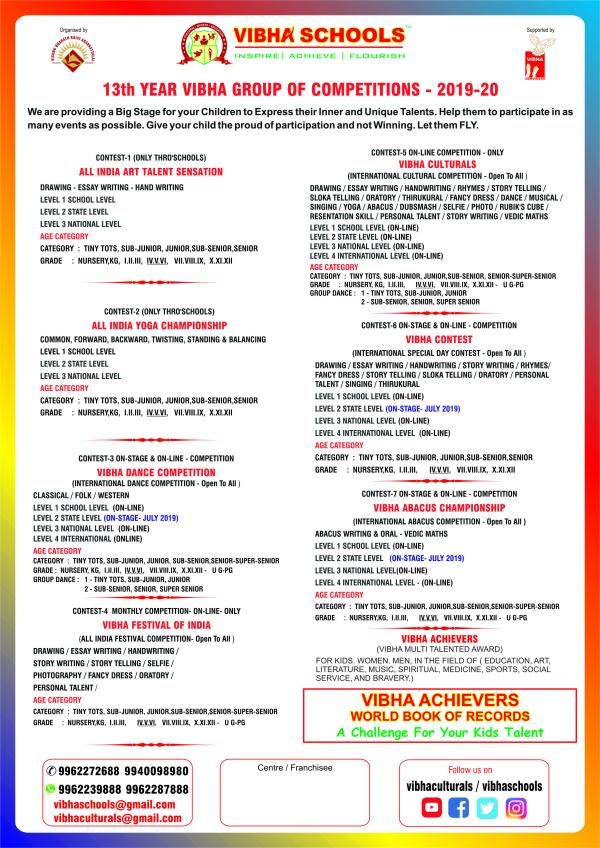 VIBHA FESTIVAL OF INDIA-2019-20 MONTH OF MAY – MONTHLY ON-LINE COMPETITION – NEW