After the success of ALL INDIA CHILD ART COMPETITION & INTERNATIONAL CHILD ART COMPETITION from past 11 yrs.
We now bring opportunity for every Child and Institute to show their talent by participating in INTERNATIONAL CHILD ART COMPETITION – 2019 organized by STAR CREATIVE ART ® . We hope for a wonderful response from young upcoming artists & people from all sections of the globe to participate & promote the efforts of Star Creative Art.
The last date for participation is 30 th September 2019.
You are requested to send your e-mail to us at starcreativeart@gmail.com, info@starcreativeart.org, as it would facilitate easier & faster communication about all our latest developments to you. We look forward for your co-operation.
Thanking you,
Madhuri Rungta
(Director, Star Creative Arts)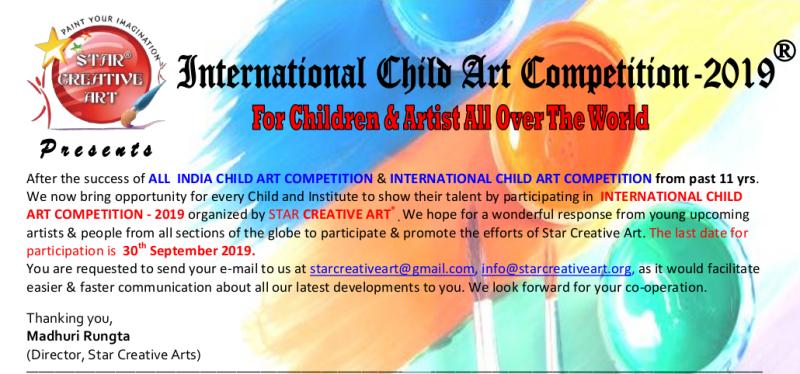 ELIGIBILITY FOR PARTICIPATION
Each Institution or a group of students should send minimum of 50 entries however there is no limit to maximum entries.
Institute sending Below 50 entries will be rejected for the Competition. Individual participant not from any institute or group, have to send a minimum of 4 entries each.
GENERAL RULES & REGULATIONS
1) Entries can be of any subject or theme. Entries must be made by the student himself. The works aided by some other persons, can be rejected at any stage.
2) Art work can be made in any medium, like Water Colors, Pastels, Pencils, Acrylic, Crayons or Paper Cuttings, Charcoal, Oil paints, Colour pencil etc. on any type of Paper, Canvas, Canvas sheet etc.
3) Parcel of entries should be packed properly. Entries should not be rolled or folded
4) Every entry should have on its back On a Label :- (USE ONLY CAPITAL LETTERS) Failure of which would lead to rejection of the entry . Kindly Do not Write on the painting .
Stick a Label with details like
Participant's Name, E-mail id (optional), Category, Teacher Name, Standard & Age, School Name & City
Renowned personality in respective field will judge the entries.The decision of the jury, formed for this purpose, will be final without any jurisdiction.
Results & Exhibition of award winning entries (under gallery option) will be displayed on the website www.starcreativeart.org by 31 st December 2019
Participants will send their entries at their own risk.
Entries will not be sent back to the participants and will belong to Star Creative Art ®. Rules are subject to change, if needed.
AGE GROUP :
Group A – Upto 1st standard (Age upto 6 Years)
Group B – 2nd to 4th standard (Age 6 + to 9Years)
Group C – 5th to 8th standard (Age 9+ to 13 Years)
Group D – 9th to 12th standard (Age 13+ to 18 Years)
Group E – 19 years and above ( Age No Limit)
CATEGORIES :
DRAWING – Any theme like Scenary, Festivals, Market, Animals, Abstract,Still life, Village Scene, etc.
CARTOON – Dragon Ballz, Disney characters, Tom & Jerry etc.
GREETING – Festivals, Occasions, Best Wishes, Birthday, New Year etc.
CANVAS PAINTING – Any Theme on Canvas Board / Sheet/ Stretched Canvas Board
THEME PAINTING – Indian Traditional Paintings (Please mention the name of traditional painting Submitted)
SIZE OF ART WORK :
(Drawing/ Cartoon/ Greeting/ Canvas Painting)
Size of Drawing / Cartoon/ Greeting should not be more then 17 inch x 14 inch
Size of Canvas Painting and Theme Painting – Any Size
AWARDS :
Special Prizes – Cash prize of Rs 1000/- + Medal (for Best 3 Art Work)
1st Prizes – Gift worth Rs 750/- + Medal (40 prizes)
2nd Prizes – Gift worth Rs 500/- + Medal (60 prizes)
3rd Prizes – Gift worth Rs 300/- + Medal ( 150 prizes)
500 Consolation Prizes
Each participant will get a Certificate of Appreciation from STAR CREATIVE ART ®
STAR AWARD will be given to every Institutes sending more than 150 entries.
BRIGHT STAR AWARD will be given to every Institutes sending more than 250 entries.
STAR EXCELLENCE AWARD will be given to an Institute sending highest number of Total Entries.
Number of 1st, 2nd and 3rd & Consolation Prizes may increase depending upon the number of entries. The prizes will be sent by registered post/ courier latest by 31 st January 2020
ENTRY FEE :
For Schools & Institution (within India) Rs. 100 per entry
For Schools & Institution (Outside India) US$ 3 per entry
One participant can give any number of entries to the school. School collects all the entries from different participants and send to us. Suppose school collects 10 paintings, 10 greeting, 10 cartoons , 10 canvas & 10 theme painting then total entries are 10+10+10+10 +10 = 50 and entry fees becomes 50 x Rs. 100 = Rs.5000 (within India) & 50 x US$ 3 = US $ 150 (for International Schools outside India)
For Individual Participant Rs 150 Per Entry (within India)
Individual participants have to send a minimum of 4 entries. No limit to maximum number of entries.
For example if a participant sends 1 paintings, 1 greeting, 1 cartoon and 1 canvas then his total entries are 1+1+1+1=4 and
his entry fees becomes 4 x Rs. 150 = Rs.600
Entry fees can be sent by Net Banking / Online Transfer /Cash / Money Order/ Bank Demand Draft Transfer/ only in favor of STAR CREATIVE ART " payable at MUMBAI .
For Net Banking / Online Transfer kindly contact us for Bank Details. A single Bank Demand Draft of total amount should be sent by the institution calculated according to the total number of entries.
Kindly Visit Website www.starcreativeart.org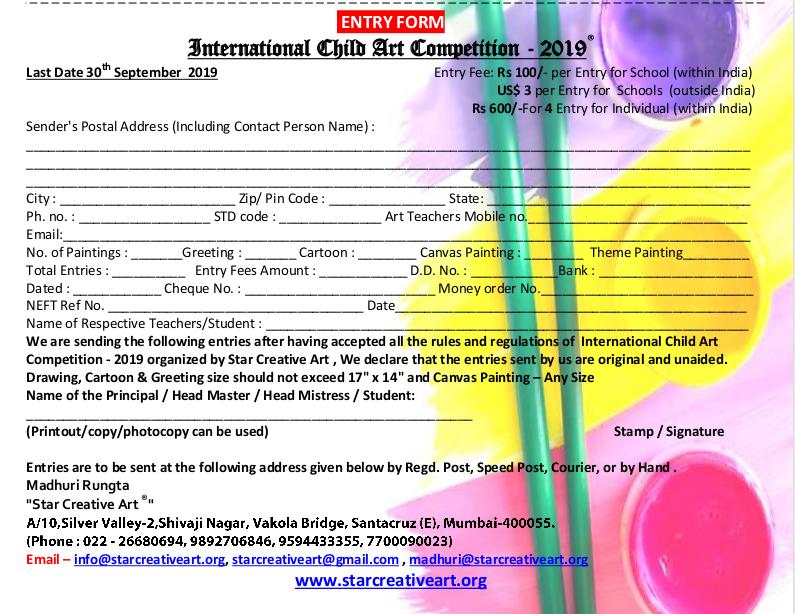 International Child Art Competition – 2019 organized by Star Creative Art (R)