Hey buds! We are back again with a whole new fun and learning! Yes! We are happy to announce the Summer Camp 2019 @ our Ergon Activity Center. Want to know what really is "New" this season? Well there is a lot of things you would go crazy on! Let's unveil it one by one!!!!!
Want to stay fit and healthy? Get to know how to stay Fit & Fab! By Dr. R Arun Kumar.
How about the junior chef's getting ready to set the Kitchen on fire! Yayyyy! It's baking time.. Baking courses it is!!!
What about cool miniature gifts for your best friends? Customized gifts for your teachers, parents and home decoration? Yeah! Time to bring out the creativity in you with the amazing miniature crafts session.
Wanna dress up for a birthday party and flaunt in your own style! Time to wear the jewels designed by you.. We have Fashion Jewelry making!
Lot more stuffs to explore apart from the new additions!
 Table Tennis
 Swimming
 Chess
 Gymnastics
 Art & Craft
 Freestyle Dance
 Badminton
 Spoken Hindi
 Basic French
 Surprise addition: Robotics
Batch Details
Batch 1 – APR 16 – APR 29
Batch 2 – APR 30 – MAY 13
Batch 3- MAY 14 – MAY 27
So what are you waiting for! Hurry and enroll your kids for the Summer Camp 2019 @ Ergon Activity Center, where learning is FUN!!!!
Call us @ 7338809072/9884411774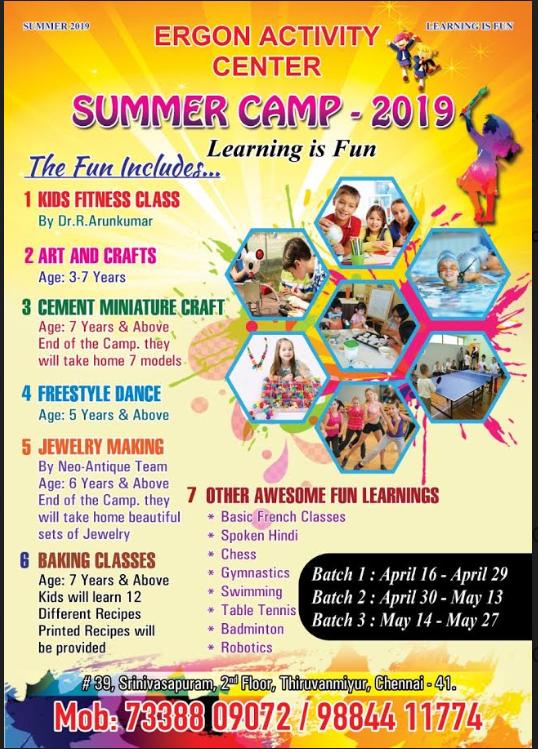 Ergon Activity Center – Summer Camp 2019