TAMILNADU CUBE OPEN TOURNAMENT
SNAKE CUBE SOLVING
2X2 CUBE SOLVING
3X3 CUBE SOLVING
3X3 ONE HAND
3X3 MIRROR CUBE
2X2 MIRROR CUBE
3X3 PYRAMID CUBE
SKEWB CUBE
SQUARE 1
CLOCK CUBE
You Can Choose 4 events
Register Through Online: tamilnaducubeassociation.org
Only 100 Participants /-Feb 24th Sunday 9.30AM
---
Tamil Nadu Cube Association, established in the year 2018, at Chennai, Tamil Nadu, India. With socially responsible attitude of providing opportunities and supporting materials along with skill development programs for individuals and young generation with standard procedures as well administering competitions and affiliates with other organizations and academies to conduct the same with global standards.
What we do – Services and Activities
Primary activity of Tamil Nadu Cube Association is,
• To conduct cube competition all over the Tamil Nadu
• To provide training & recognise the trainers
• To recognise & award achievers
• To provide opportunities for students, trainers & academies.
• To provide standard study & development materials also tools for students, trainers & academies.
• To organize events for the young minds to compete for world & national records.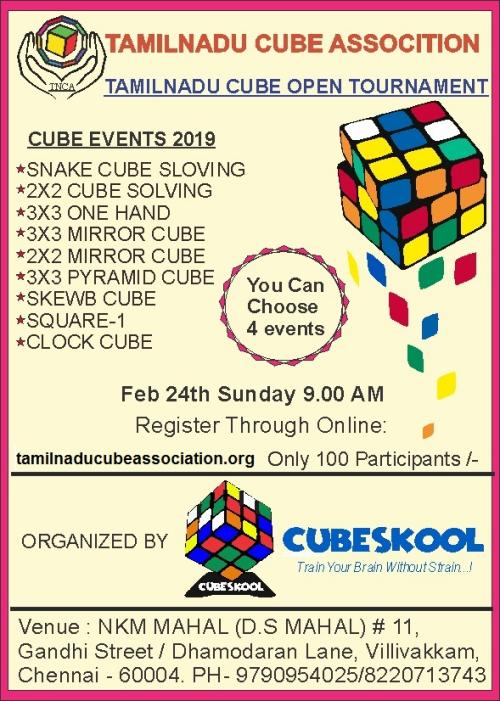 TAMILNADU CUBE OPEN TOURNAMENT Feb 2019