PADMA SESHADRI BALA BHAVAN SENIOR SECONDARY SCHOOL K.K.Nagar and T.Nagar PreKG Online Registration for Admission will be available ONLINE ONLY from 01/02/2019 (5.00 AM) to 03/02/2019 (12 Midnight), in the school website www.psbbschools.ac.in
Age Criteria : Minimum2 years and 6 months as on 1st June 2019.
Online Registration can be done for ONE SCHOOL ONLY
(i.e. either K.K.Nagar or T. Nagar – whichever branch the admission is sought for).
For All Details Regarding Admission :
http://www.psbbschools.ac.in/news/2019/01/28/Pre-KG%20Admission%20Notice%20for%20the%20ACY%20(2019-20).pdf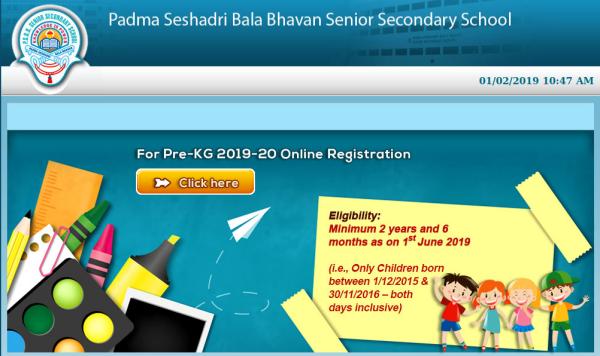 PSBB Sr. Sec. School PreKG Admission 2019-20