Star Creative Art presents International Child Art Competition 2018.
Last Date of Submission is December 15, 2018.
Eligibility :
Each Institution or a group of students should send minimum of 50 entries however there is no limit to maximum entries. Below 50 entries will be rejected for the Competition. Individual participant, not from any institute or group, have to send a minimum of 5 entries.
Entries can be of any subject or theme.
Results & Exhibition of award winning entries will be displayed on the website www.starcreativeart.org latest by 15th January 2019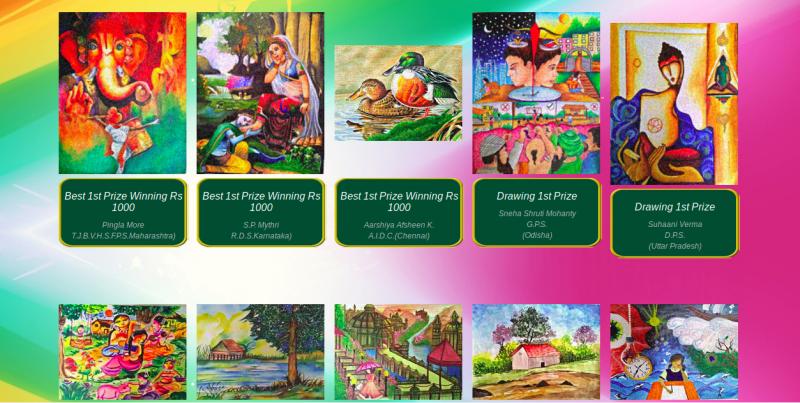 AGE GROUP :
Group A – Upto 1st standard (Age upto 6 Years)
Group B – 2nd to 4th standard (Age 6 + to 9Years)
Group C – 5th to 8th standard (Age 9+ to 13 Years)
Group D – 9th to 12th standard (Age up to13+ to 18 Years)
Group E – 18 Years and above (Only for Individuals within India)
CATEGORIES :
DRAWING – Any theme like Scenary, Festivals, Market, Animals, Abstract,Still life, Village Scene, God and Goddess etc.
CARTOON – Dragon BallZ, Disney characters, Tom & Jerry etc.
GREETING – Festivals, Occasions, Best Wishes, Birthday, New Year etc.
CANVAS PAINTING – Any Theme on Canvas Board / Sheet / Stretched Canvas Board
THEME PAINTING – God and Goddess

SIZE OF ART WORK :
(Drawing/ Cartoon/ Greeting/ Canvas Painting/ Theme painting)
Size of Drawing / Cartoon / Greeting should not be more then 17 inch x 14 inch
Size of Canvas Painting and Theme Painting- Any Size
ENTRY FEE :
For Schools & Institution (within India) Rs. 100 per entry
For Schools & Institution (Outside India) US$ 3 per entry
For Individual Participant Rs 150 Per Entry (within India)
International child Art Competition Entry Form
Entries are to be sent at the following address by Regd. Post,Speed Post, Courier, or by Hand.
Madhuri Rungta
Star Creative Art®
A/10, Silver Valley-2, Shivaji Nagar,
Vakola Bridge, Santacruz (E), Mumbai – 400 055.
Phone : 022 – 26680694, 9892706846, 9594433355
Email – info@starcreativeart.org , starcreativeart@gmail.com , madhuri@starcreativeart.org
Website : http://www.starcreativeart.org/