DN CREATIVE KIDS PROUDLY PRESENTS ART CARNIVAL FOR KIDS 2018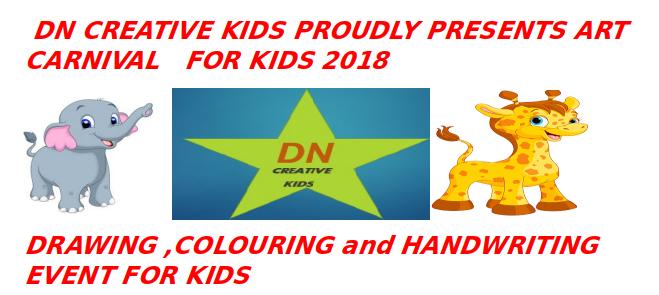 DRAWING ,COLOURING and HANDWRITING EVENT FOR KIDS
Important Points: Registration Fee: Rs 150 per event for Chennai Kids / Rs 200 for kids out of Chennai and TamilNadu.
Last date for Registration 14th November 2018
Last date for Drawing Submission 20th November
Rules :
All winners will get trophies/Cups and Certificates and Runners (Participants) will get medals. ( No Hardcopy of the certificates will be provided for the Runners , if needed soft copies will be shared through email),details of the event is given in the registration link.
Whatsapp @ 9003367830.Also look at our Facebook Page : DNCreativeKids.
Participants …Lets explore the Kids talent ..Rush Rush !!!!
Click the below link to Register :
http://www.dncreativekids.com/registration-form/
For Registrations contact : 9003367830
Email @ register@dncreativekids.com
No need to send Courier , please email the soft copies to enquiry@dncreativekids.com
Events :
PRE – KG : Colour the Vegetables
LKG/UKG – Colour the Animals
UKG – Handwriting
I Standard : Draw and colour any 5 vegetables
II Standard : Draw the Universe
I/II Standard : Handwriting –Copy the passage
III /IV Standard : Drawing : Our Nature
V/VI Standard : Drawing : Freedom Fighters
VIII and Above : Drawing : Childrens Day Theme
DN CREATIVE KIDS ART CARNIVAL FOR KIDS 2018 | Online Competition