Blu Butterfly's Talent Fest 2018: Drawing Competition, Coloring Competition, Fancy Dress Competition on November 24 and 25, 2018.
Call for Registration or Book online at https://www.townscript.com/e/blu-butterflys-talent-fest-311313
Join us to explore your kid's talent and get them rewarded for their creativity and build their confidence.
Category and topics
Category 1 – Coloring – PreKG to 2nd Class – Coloring sheet will be given
Category 2 – Drawing & Colouring – 3rd to 5th Class – Go Green (or) My dream city
Category 3 – Drawing & Coloring – 6th to 8th Class – Go Green
Category 4 – Fancy Dress(on 25th Nov) – Upto 3rd Class – 1. Go Green (or) 2. Disney (or) Marvel characters
Venue:
Blu Butterfly Academy and Daycare
#35, Poongothai Nagar, 3rd Right, Opp Gowtham Lodge, Avinashi Road, Goldwins, Coimbatore – 641014.
Call for queries : +91-7418976696, +91-9600644422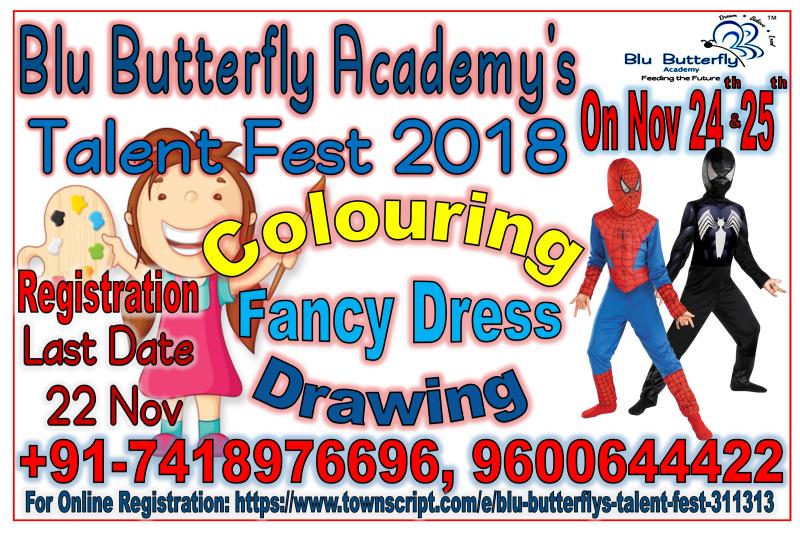 General Rules and Regulations for the Competition:
1. Participants should bring their School ID card.
2. Competition duration will be 2hr/batch.*
3. The judgment by the panel of experts will be final.
4. Result will be announced to the winners on 25th November 2018 through phone.
5. Prize will be distributed to the winners on 25th November 2018 evening.
6. Please Share your contact details while booking online so that we can contact you for sharing the Time slot for the Competition.
7. Online Registration costs Rs.20 extra (total Rs. 120/-) than Booking in person at venue before 22-11-2018.
8. No Refund of registration fee paid will be given at any circumstances
9. While coming to competition, Please bring soft copy of the email/online ticket booked here.
1. All participants will be provided with A3 white paper.
2. Registration closes on 16.11.2018. Day and time slot for the competition will be
intimated on or before 21 st November.
3. Participants have to bring their own colors, Pencils, writing pad & other materials required.
Note: Category 1: Only Crayons or Pencil Colours need to be used.
Category 2 & 3: Any art material
Rules: Fancy Dress – Category 4
1. Participant can choose desired costume/ character.
2. Each participant should deliver a short narration on his or her character.
3. Participant should adhere to a maximum time limit of 2 mins including narration.
4. Only solo performance is allowed.
5. Participants will be judged on the basis of costume, confidence, dialogue and creativity.
Prize Details:
1. Total Prize worth Rs.12500/-
2. Winners will get Cash Prize, Medal or Certificate.
3. All participants get Certification of Participation.
*Rules and Prizes are subjected to change and is sole discretion of the Blu Butterfly Academy Management.