Let's make this Dussehra colorful as always with more grace to the dances. Senthil Kumaran, the Creative Director of S Community with his team will lead the young ones to the world of dancing. Constant practice of dance would result in muscular strength and endurance, motor fitness, agility and flexibility in kids.
Join us in Children's Land on TTK road, Alwarpet for a couple of Dandiya sessions to help your l'le ones flex their muscles and learn to groove with grace.
All interested children (4 years and above) can participate. Please call us to confirm your spot.
Date : Tuesday – October 9, 2018 & Thursday – October 11, 2018
Time: 4:00 PM to 5:00 PM
Contact :
Children's Land : Ph No. 80721 96323
Email : childrensland2018@gmail.com
Venue: No. 286, TTK Road, 3rd floor, Alwarpet, Chennai – 600 018
Landmark: Above Andhra Bank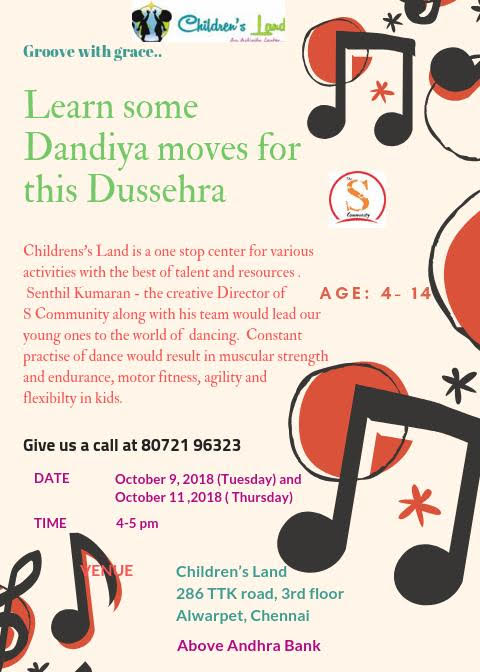 Learn some Dandiya moves for this Dussehra at Children's Land, Alwarpet