Shriram Ilakiya Kazhagam is celeberating Thirukural Festival every year.
In this Thirukural Vizha, Speech and Drawing Competitions are conducted for school and college students, in order to spread the values of Thirukural and Tamil language among the students.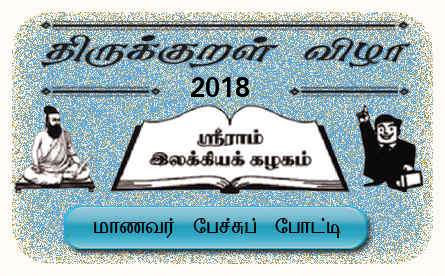 Thirukkural Vizha will start from July 2018 in Chennai, Puducherry, Madurai, Nellai, Thiruvarur, Trichy, Coimbatore, Erode, Salem and Vellore.
There will be 3 categories for Elocution and Drawing Competitions:
Category 1 : Std 6, 7 and 8
Category 2 : Std 9, 10, 11 and 12
Category 3 : College Students
For More Details and the Application Form : https://shriramchits.com/css/Application_Form_-_Thirukkural_Elocutiong_and_Drawing_Contest_2018.pdf