UN Climate Change and its partners have run the annual Global Youth Video Competition since 2015. The competition demonstrates how young people are key players in enacting innovative and ambitious solutions to combat climate change. The initiative, which is in its 4th edition, aims to highlight, through videos, climate action being taken by youth.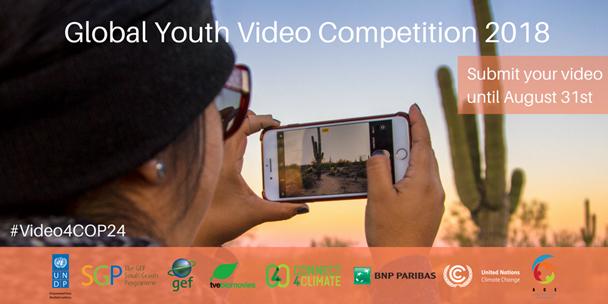 Young people between the ages of 18 and 30 can send in an engaging, maximum three minute video. The two themes of this year's competition are:
1. Sustainable Consumptions and Production
2. Green and Climate-friendly Jobs
Applicants must submit their videos to the to the tvebiomovies online platform here: http://biomovies.tve.org/competitions/global-youth-video-competition/
The deadline for the competition is 31 August 2018.
Two winners will receive a round trip to the UN Climate Change Conference (COP24) in Katowice, Poland this December (including flight, accommodation and other expenses). They will join the UNFCCC Global Climate Action team as youth reporters, compiling and producing videos, articles and social media posts.
More information on this year's competition is available on the https://unfccc.int/news/2018-global-youth-climate-video-competition-open-for-applications.
2018 Global Youth Climate Video Competition