Kidspreneur is the first ever Entrepreneurship development centre for kids of age 5-15 years in Asia. we are extremely passionate about sparking up the entrepreneurial skills and we do this majorly through experience and learning.we believe that entrepreneurship is the dream of our nation.this isn't about having kids focus non business more than school We from kidspreneur are planning a marathon for kids by kids…on the 27th of May,2018.
WHY WE DO WHAT WE DO?
We usually create imaginary companies during our kidspreneur program we also learnt about social entrepreneurship and hence ,this time we thought we should have an actual event that has a good cause and hence,a marathon which would also be an experience of fun and learning and some fitness for children from the age of 7-18. We're a team of 8 organisers and we are looking forward to being tied up with your organisation.
THE CAUSE OF THE MARATHON:
Lately ,Global Warming has become a major crisis and its the need of the hour to take steps to prevent usage of CFC's and other refrigerants and deo's and other green house gases,that cause severe harm to the ozone layer and take an effort to try our best to stop global warming
to some extent. This marathon is being organised for getting funds that will be used towards crating GLOBAL WARMING AWARENESS AMOUNG KIDS.
Global warming is a man-made disaster working like a slow poison and ruining the natural environment gradually. It is affecting the whole planet very badly and disturbing the natural processes. It has resulted in increasing sea level, increasing atmospheric temperature, melting glaciers, changing climate, occurrence of flood and tsunami, declining ozone layer, and many more.
Bad effects of global warming is increasing day by day because of the increasing level of green house gases in the atmosphere due to the increasing human needs of electricity, use of fossil fuels, deforestation, industrialisation, etc.
It is very necessary to increase awareness about it among common public living in the society or community in order to reduce the effect of global warming. It is a man-made disaster so it can be solved by the regular human effort. We have to reduce the concentration of greenhouse gases in the environment by bringing some positive changes in the life style.
Awareness regarding global warming can be enhanced in the society by using slogans as it motivates common people very easily. We have provided below some effective and encouraging slogans on global warming which you can use to gain attention of the people during any campaign or related event celebration in school, college or other place.
WE CAN SPREAD AWARENESS..by the following:
Growing more trees,
using seed balls that will be given to each kid who runs the marathon,
and there will be slogans on global warming ,and how its harmful too.Which will again spread awareness among kids.
Event Timings: Sunday May 27th Morning 6.30 AM to 9.00 AM.
Venue: Elliots Beach Besant Nagar, Chennai.
Registration Fee: Rs. 300/-. .
Distance: 3 km for all age groups.
Prizes: Shields, medals and more surprise gifts for winners.
Registration open till Saturday evening 6.30 PM.
For Booking click : http://www.ticketnew.com/MARATHON-FOR-KIDS-Tickets-Online-Show-Timings/Online-Advance-Booking/Events/72/Chennai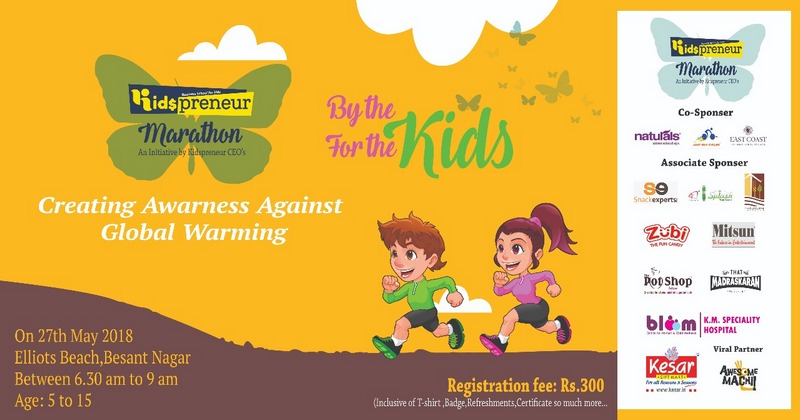 Kidspreneur Marathon on May 27, 2018