The Science Without Borders Challenge is a contest to get students and teachers more involved and interested in ocean conservation through art.
This international art competition is open to all students 11-19 years old. Students must be enrolled in primary or secondary school, or the home school equivalent.
There will be 2 categories :
11 – 14 year-olds
15 – 19 year-olds
Awards:
1st Place: $500
2nd Place: $350
3rd Place: $200
Theme :
The theme for this year's Science Without Borders Challenge is "Why Coral Reefs Matter."
Use your artistic talents to create a piece of art that illustrates why coral reefs matter to you, your country, the world, and/or other organisms or ecosystems.
You must send your original artwork. Digital copies of artwork are NOT permitted. Participants may submit only 1 art piece.
All original artwork should be mailed to:
Khaled bin Sultan Living Oceans Foundation
Science Without Borders ® Challenge
130 Severn Avenue, Suite 100
Annapolis, MD 21403
USA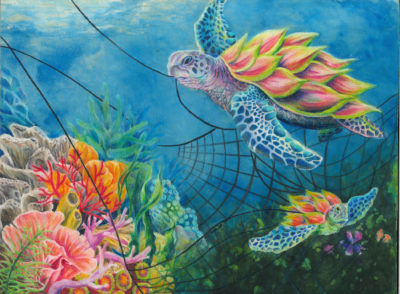 The deadline is Monday, April 23, 2018 by 11:59 pm (Eastern Standard Time). Works received later will not be considered.
For More Details : https://www.livingoceansfoundation.org/wp-content/uploads/2013/06/SWB-Challenge-2018.pdf
All applicants must submit the online Entry Form below and send the original entry by post/courier : https://www.livingoceansfoundation.org/education/science-without-borders-challenge/swb-challenge-submission/
Previous Years Winners and all other details are available in the organizer's website. Please contact them directly for any further clarification.
Science without Borders 2018 Challenge Contest