The STATE-FISH ART Contest is open worldwide to all children in grades K -12 in public, private or home-school, any youth group, after-school program, youth camp, scout troop, art class, etc., or just an individual kid that wants to enter!
Essentially any child of K-12 age is eligible as long as a responsible adult reads, agrees to and signs their entry form.
An Entry includes an artwork and an essay (writing).
THE ARTWORK should be HORIZONTAL 9 "x12". No other sizes and dimension allowed.
Depict ANY designated state fish or Ontario, Canada designated fish. Information on the
fish eligible for entry in 2018 are available HERE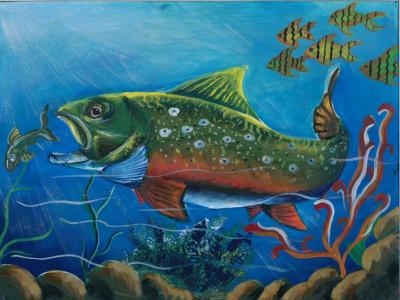 Writings should not exceed 1 page. Submit the essay with the artwork but leave it separate … DO NOT ATTACH IT TO THE ART.
Only one State-Fish Art Contest entry per student per year will be accepted.
Last Date for Entries : March 31, 2018
All INTERNATIONAL ENTRIES are to be scanned and submitted electronically. Paint any eligible state-fish and also write one side of one page. Complete and sign a Standard Entry Form. Scan all three components and email to khollingsworth@statefishart.org.
You will be entered in the International Category.
For all information, visit : https://www.wildlifeforever.org/wp-content/uploads/2017/05/regs2018.pdf
Entry forms are available in the following link :
https://www.wildlifeforever.org/home/state-fish-art/state-fish-art-entry-forms/
State Fish Art Contest 2018 by Wildlifeforever