Summer Camp @ Ojas Eduland, Chennai.
Period : 2 – 4 weeks (Flexible)
Age Group
3 to 12 years
13 to 18 years
When: March, April and May 2018
Period: 2 weeks – 4 weeks (Flexible)
The date of the summer camp is flexible according to every kid. The Parents can choose which weeks the child wants to participate.
Where: Ojas Eduland, Anna Nagar
Give more in this summer for our kids.
A "Summer Camp", that helps the children to learn life skills.
Topics Covered for 3 to 12 years
Fitness & Games
Art & Craft
Good Habits & Manners
Anger Management & Meditation
Topics Covered for 13 to 18 years
Self-discipline
Self-awareness
Understanding Emotions
Body Language
Goal Setting
Time Management
Social Skills
Event Venue:
Ojas EdulandZ- 72(A), Door no – Z -117, Ground floor, Z block,
5th Avenue, Opp to DSK Benelli Showroom,
Near Blue star Saravana bhavan hotel, Anna Nagar west, Chennai – 40
Email:  ojaseduland@gmail.com
Contact: 9498425898, 9986584433, 8939553898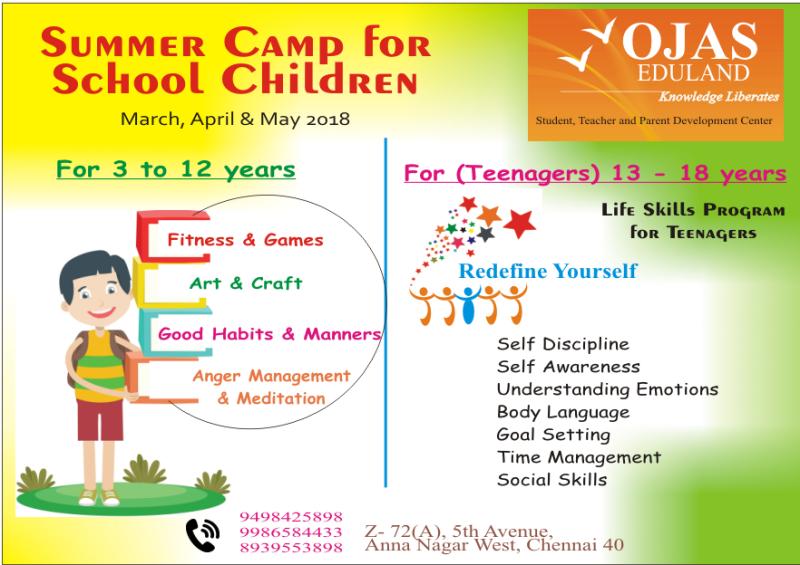 Life Skills Program Summer Camp for School children @ Ojas Eduland