Drawing Competition by Sweswa Kalai Koodam on Feb 18, 2018.
Objective
Students of these days have lot of potential in them when it comes to imagination, creativity
and art. All we need to do is, encourage them to explore new ideas. For this, every year we are
conducting Drawing competition & Art exhibition to motivate and improve their drawing skill and
this year we are conducting open drawing competition for all school students on 18 February
2018.
And also we are conducting Art Exhibition exclusively for SWESWA Students.
Venue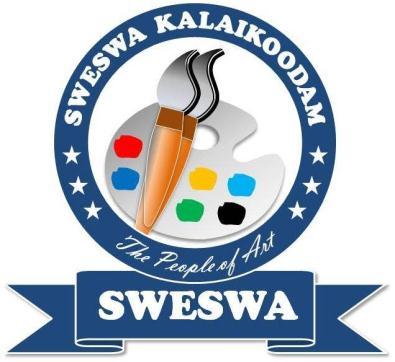 Santhi Durgai Temple Kalyana Mandapam
No. 17, Venkatraman Street, Balu Avenue,
Chitlapakkam Main Road,
Chitlapakkam , Selaiyur,
Chennai – 73
Land mark: Chitlapakkam More Departmental store opposite street
Phone: 8807044112 / 8807044114 / 9962501977
Category Theme
1 – Pre Kg , L.K.G , U.K.G Coloring
2 – 1st std to 3rd Std Sceneries
3 – 4th std to 6th std Festivals
4 – 7th std to 12th std National Leader or Monuments
General Instruction
❖ Only A4 Chart will be provided at the venue.
❖ Students have to bring their own drawing materials like Pencil, Markers, Crayons, Oil
Pastels, Water color, Writing pad, Waste cloth, Scale.
❖ Duration will be one hour and the timing is from 10.00 AM to 11.00 AM. Prize distribution
from 12pm to 12.30pm.
❖ Winners will be selected for first 3 places in each category and will be honored with Trophy
/ Medal and Certificate
❖ Certificate of participation will be given for all participants.
❖ Registration fee is Rs.200
❖ Registration fee will not be returned at any cost.
❖ Judges decision will be final.
❖ Drawings will not be returned.
❖ Students are requested to assemble 20 minutes before at the venue.
❖ Participants should bring their school ID card as Proof.