Classmate Spellbee Season 10 going on now.
There are 4 levels in this Spellbee competition:
Level 1: School Level
Level 2: City Finals
Level 3: Semi Finals
Level 4: National Finals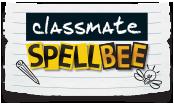 Students can take the School level tests at school or online in the website http://www.classmatespellbee.in/register after registering for the same. The test is in Multiple Choice Question (MCQ) format which will test your basic spelling skills. You have to choose the correct spellings of 75 words from the options. Top scorers from the online test and the school level toppers advance to Level 2.
Last Date to Participate is Feb 5, 2018.
Classmate Spellbee Season 10